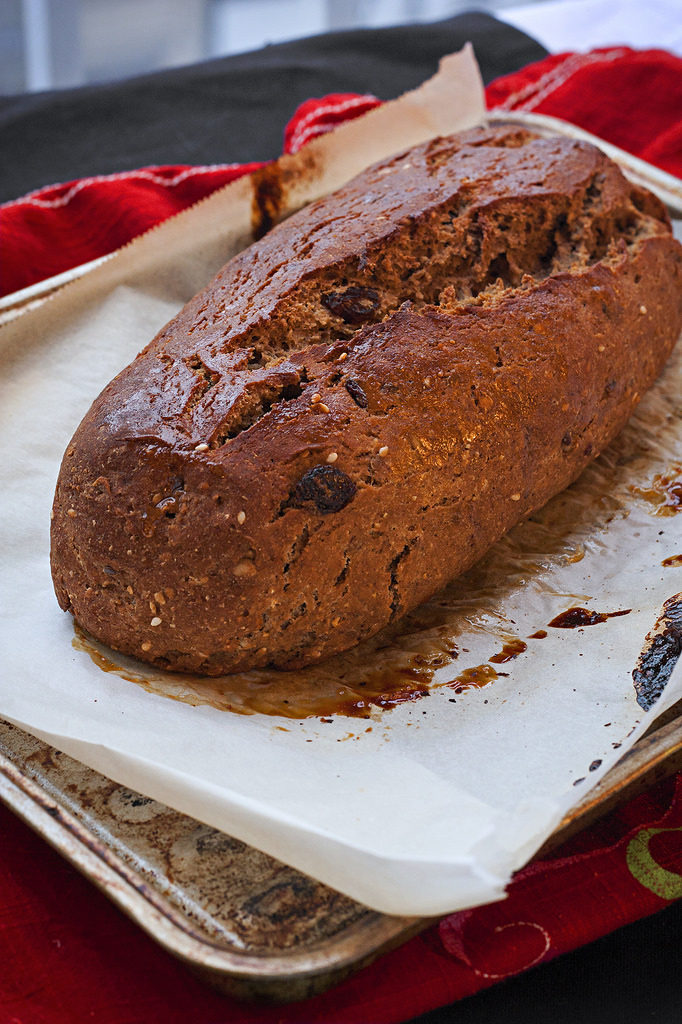 In Christmas times the traditions is something you should not mess with if you still want to be alive. Well it's maybe not that dangerous but probably you should not mess with it to much. So that's why we didn't mess to hard with this one. It still contains beer, juice from a real stout (in Paris we could only find Guinness's).
Swedish Christmas Bread Recipe
The original Swedish Christmas Bread recipe includes tons of sugar and wheat. Our version is a healthier alternative. We let the beer remain because it's hard to get the right flavor without it. Served best with a nut butter (organic, no sugar almond butter worked lika a charm).
Vegan Christmas Bread Recipe (Julvört) Recipe
Ingredients
25

grams

of Cashews

Soaked

1/2

bag of Yeast

1

Cup

of Stout

Could also be called Porter

0,5

tablespoon

of Gingerbread spices

1 1/2

cup

of Rye flour

20

grams

of Liquid Honey

Use dark heather honey (colluna).

0,5

teaspoons

of Salt

1/5

Rasins

1

tablespoons

Flaxseeds

4/5

cup

of Spelt flour

2/5

cup

of Soy flour

2/5

cup

of Almond flour

1

teaspoon

of Honey

for the honey water that you brush the loaf with
Instructions
Soak the cashews for 6-12 hours preferably overnight.

Mix the cashews in a medium size bowl until it has a butter concistency. Pour in the stout and mix it together.

In another bowl you mix dry yeast, gingerbread spices, salt, rye flour and the flaxseeds.

Pour the beer mixture and give it a good stir.

Ad the raisins.

In another bowl you mix the spelt, soy and almond flour together.

Pour over the flour mixture into the original mixture and stir with a wooden spoon.

Ad some spelt flour on a table and put some onto your hands and start to knead the bread. It needs approximately 5 minutes for the gluten to evolve.

Let it raise for 45 minutes.

Knead the louf again and shape it on a baking tray with a baking sheet. Let it raise for additional 45 minutes. Put the oven on 200 degrees.

Bake it in the oven for 30 minutes.

Take it out and brush it with the honey water mixture (mix 1 teaspoon of honey into 1/4 cup of water).

Bake it for additionally 15 minutes but be prepared to ad a aluminium foil to keep the louf from getting burned.