A new year full of new opportunities. As we now are located back home in Sweden after an intense 4 months in Paris it feels great to have our own kitchen so that we can cook even more sustainable, healthy and delicious recipes (like this chevré grated healthy sweet potato).
Yesterday we heard on the news about the terrible terrorist attack in Paris, it was only 500 meters away from were we lived! It shows that life is fragile and that we always have to work to improve the world and to remove evil. We work against preserving our environment with our sustainable blog, how are you improving the world this year?
This is a real cross cultural healthy sweet potato recipe that we tried while we lived in Paris. Sweet potatoes grated with chevré (french goat cheese). The roasted chickpeas adds some protein into the dish.
Enjoy!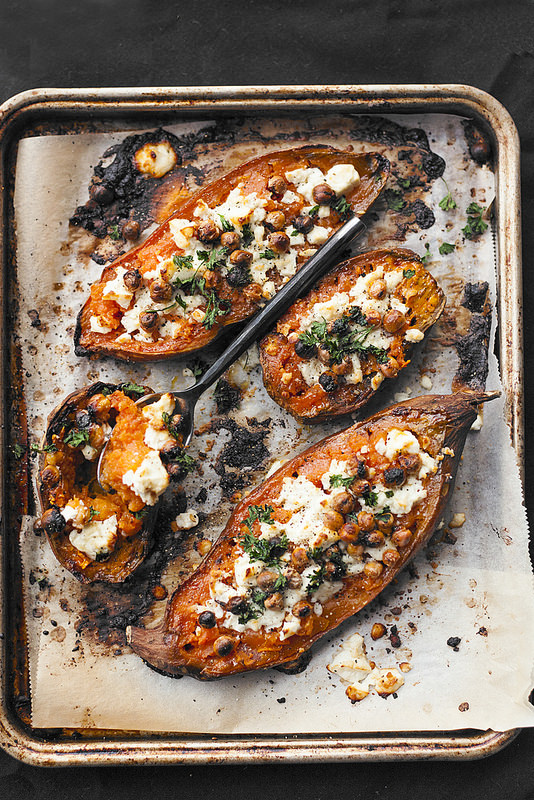 Healthy Sweet Potato Recipe – Grated with Chèvre and served with Chickpeas
Sweet Potato Recipe Grated with Chevré
Ingredients
2

Big Sweet Potatoes

100

Grams

of Boiled Chickpeas

50

Grams

of Chevré

Goats cheese

1

Handful of Parsley

1

Tablespoon

of Olive oil

A pinch of Salt

A pinch of Black Pepper
Instructions
Put the oven on 200 degrees celsius/392 F and prepare a baking tray with a baking sheet. Wash the Sweet potatoes and spilt them in halfs.

Brush the Sweet Potato with olive oil and the top and the bottom (even the side with the peel). Salt it on the cut surface and put it on the tray with the salted side facing towards the tray.

In a bowl you mix the chickpeas with olive oil, salt and pepper. Spread the chickpeas evenly on the sweet potato baking tray.

Bake for 30 minutes, withdraw the baking tray and turn the sweet potatoes around. Using a fork you stir around in the mushy sweet potatoes. Crumb the cheese on the potatoes and push down the cheese with the help of the fork. Save some cheese to put over the chickpeas.

Finely chops the parsley and sprinkle over. Pour some olive oil over the potatoes, bake in the oven for 5-10 minutes or until the cheese has gotten some nice brown color.

Before serving let it cool and ad some salt and pepper.

Bon Apetit!