Here we have one of the worlds most popular dishes updated with new ingredients, vegetarian bolognese!
Mushrooms stand for the richness and gets backed by roasted walnuts!
Stop with your vegetarian bolognese with meat substitute and make the real thing.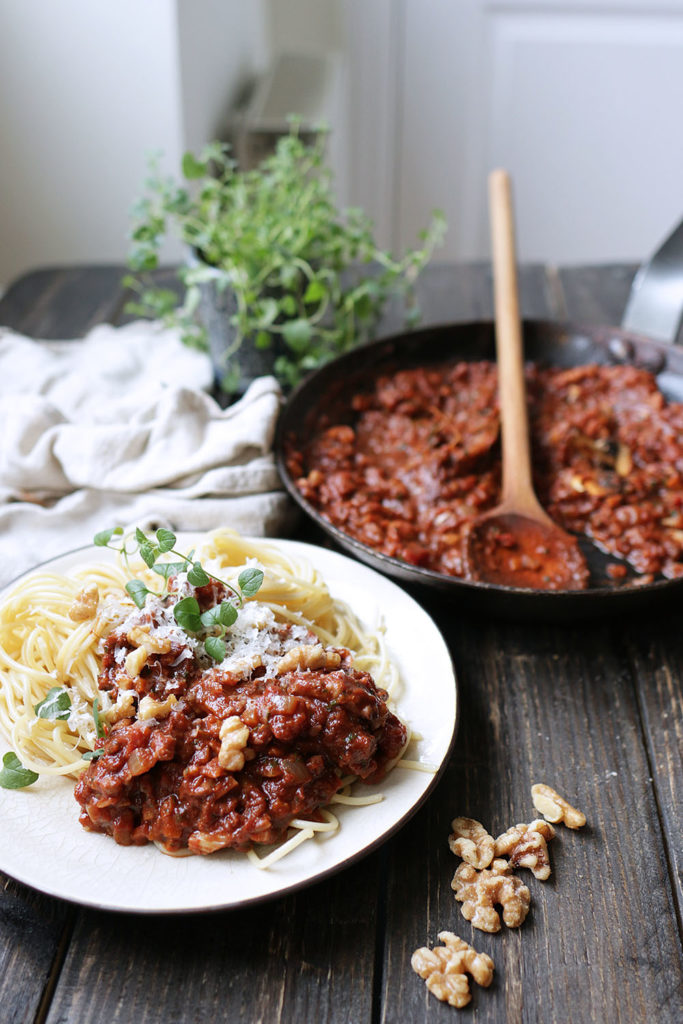 Vegetarian bolognese with clean ingredients
Sometimes you just want to avoid qourn, soybeans and beans. Veggie substituts are smart and good at times but clean ingredients are a little bit better. Mushrooms also have a minimal impact on the environment as compared to other protein sources. This delicious vegge bolognese is actually completely vegan if you skip the parmesan.
Carrots are one of the basics of the Italian cuisine. What most dishes are based on is a flavor setting called Sofritto, consisting of yellow onions, celery and carrots.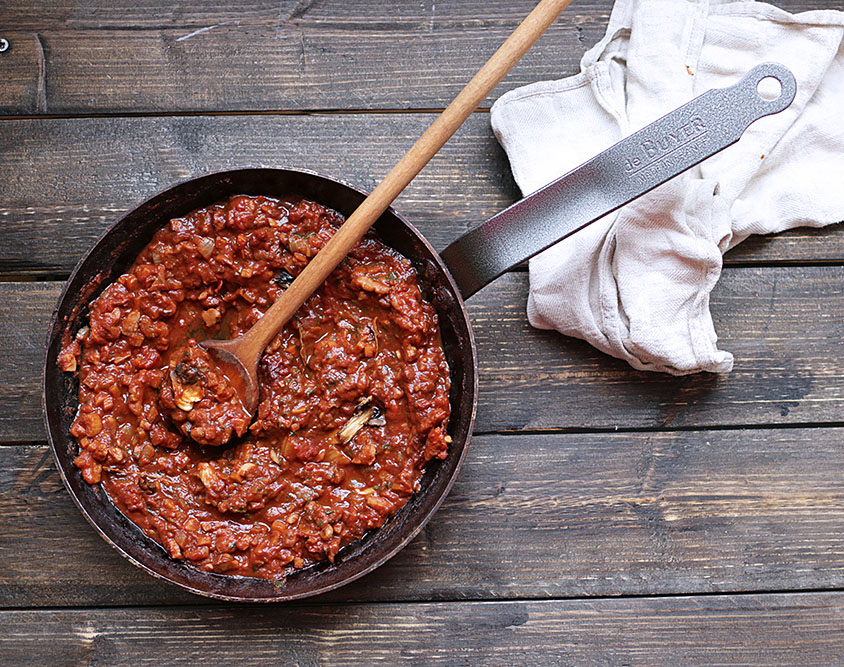 The carrot is more complex than you might think. A very common root fruit indeed. But the carrot has a sweet taste that reminds you of pine nuts and parsley. If you know how a forest tastes, that's how a carrot tastes. So mushroom and carrots are a given pair.
Isn't it exciting that a carrot can taste like a forest? We have a favorite book called the flavour bible written by Niki Segnit, we think you should check if you also find it exciting with flavors!
Savoury Vegetarian Bolognese
Ingredients
1/2

cup

of walnuts 2 yellow onions 1 stem of celery 1 carrot 1 finely chopped red chili 3 finely chopped garlic 2 stalks thyme 2 stalks oregano 1 bay leave 1 tablespoon tomato paste 1 tablespoon apple cider vinegar 1 jar crushed tomatoes 300 gr mushrooms Salt and Pepper

Parmesan, excluded to make it completly vegan
Instructions
Start by roasting the walnuts in a dry pan until hey get some color. While they are roasting, chop the onion, celery, carrot, chili and garlic. Fry the onion, celery and carrot in a saucepan in a little bit of cooking oil until they get a nice color. Then add the chili, garlic, thyme, bay leave and oregano. Let them fry for a few seconds then add the tomato purée. Let the purée get a nice color before you add the apple cider vinegar. Stir around in the bottom of the pot to bring forth the flavours.Then add the crushed tomatoes and let it simmer for about 20 minutes. Meanwhile you cook the pasta and fry the mushrooms.Season with salt and pepper. Serve with a hearty dose of parmesan or vegan cheese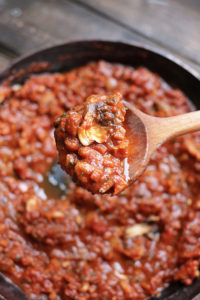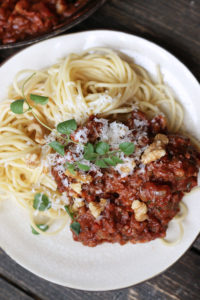 Looking for some more savoury and hearty dishes? Check out the following recipes:
Vegetarian Stew Recipe with Mushrooms, Red Beets and Green Kale
Vegetarian Meatballs With roasted sunflowers seeds