Chickpea stew is and almost complete dish. Satisfying, protein rich, easy to make organic and super cheap.
If you are imagining a vegetarian chickpea stew, you often think of something from the Indian cuisine. Coconut milk, coriander, curry and hot. But and italian version is also very tasty with flavors of tomato, garlic and olives. But our favorite is still a Thai version with red pepper, lime, lemongrass and cashew.
Thai Chickpea stew with coconut milk, peanutbutter and lime
Peanut butter in combination with lime and red peppers kick us back to a sunny beach with sand between our toes and salt water in our hair. That's how we want you to feel when you eat this dish. The heat is there, warming on the first bite. But not too much, just a nice tickling heat.
A chickpea stew is basically very easy to make. In short, it's about cooking a bunch of good vegetables that give a nice rich taste, for example, onions, peppers and maybe a little heat in the form of garlic or red peppers.
Add broth and simmer for awhile then add chickpeas and coconut milk or crushed tomatoes. Garnish with some fresh vegetables. Simple, good and healthy. That's how we like it!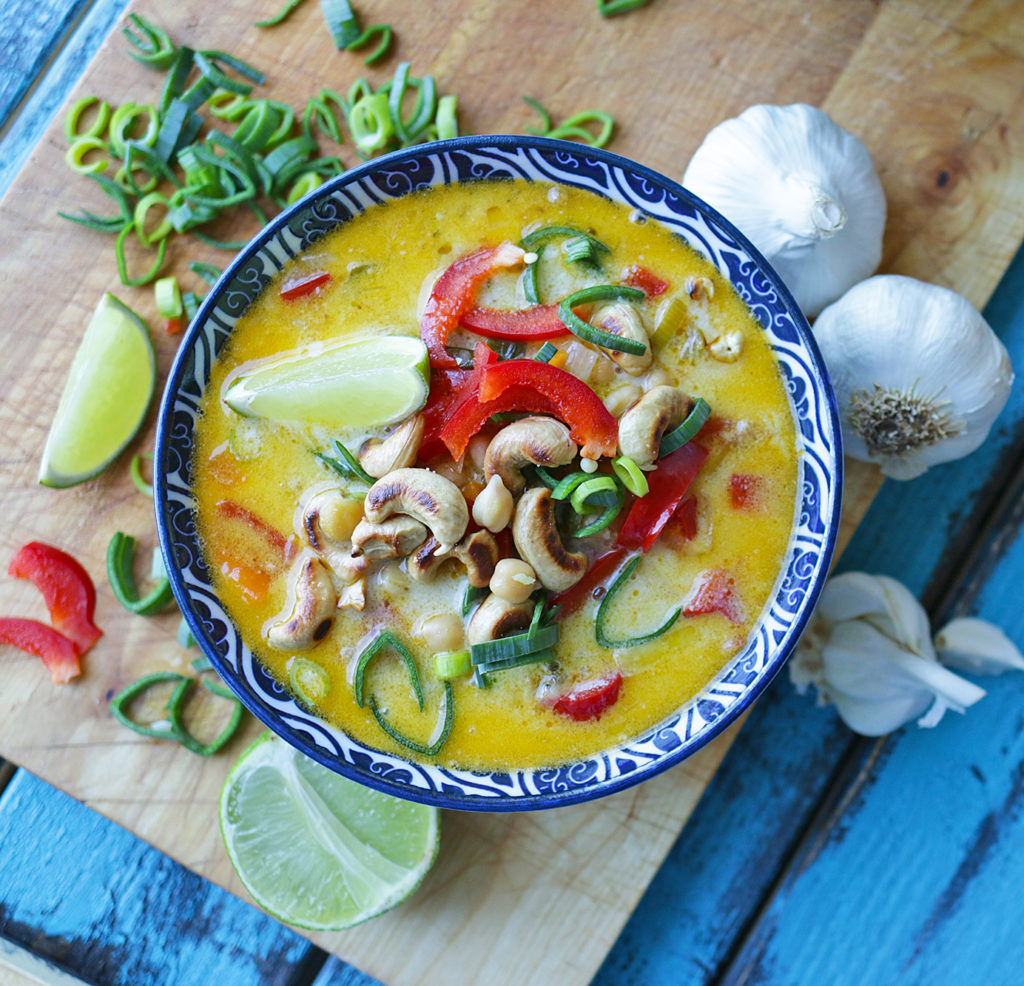 Thai Vegan Chickpea Stew
Ingredients
Vegetables

2

yellow onions1 red pepper6 inch leek1 big carrot2 garlic cloves1 inch ginger1 limeDry goods

3

tablespoons

of peanut butter1 vegetable broth1 can of coconut milk1 jar of chickpeas1 cup of cashew nuts or peanutsSalt
Instructions
Rinse peppers, the leek and carrot. Peel the garlic, yellow onion and ginger.Chop yellow onions, carrot, garlic and ginger in small mini-pieces and cut the leek in thin slices and the pepper in medium sized pieces.Cover the bottom of a large saucepan with cooking oil, put it on a little warmer than medium and add all the vegetables. Sprinkle 1 teaspoon salt over it and stir occasionally until everything has got a nice color and softened, it takes about 10 minutes.Cut the lime into 6 slices and squeeze two of them into the saucepan before adding the peanut butter and pour into 2 ucps of water, coconut milk and the broth. Simmer for about 10 minutes.Open the jar of chickpeas, rinse and add to the pot.Roast the nuts in a saucepan on high heat, shake the pan often.Serve with fresh peppers, leek, coriander and lime wedges. If you want a little more carbohydrates and an even more hearty stew you can add some noodles or rice.