Sugarfree & Healthy Easter Treats with Mango & Raspberry

Easters finally here! Why not put these healthy easter treats treats in your or your children's easter eggs. No bake and no sugar, only packed with healthy stuff that's good. They are also environmentally friendly compared to ordinary candy because it's made without involving animals.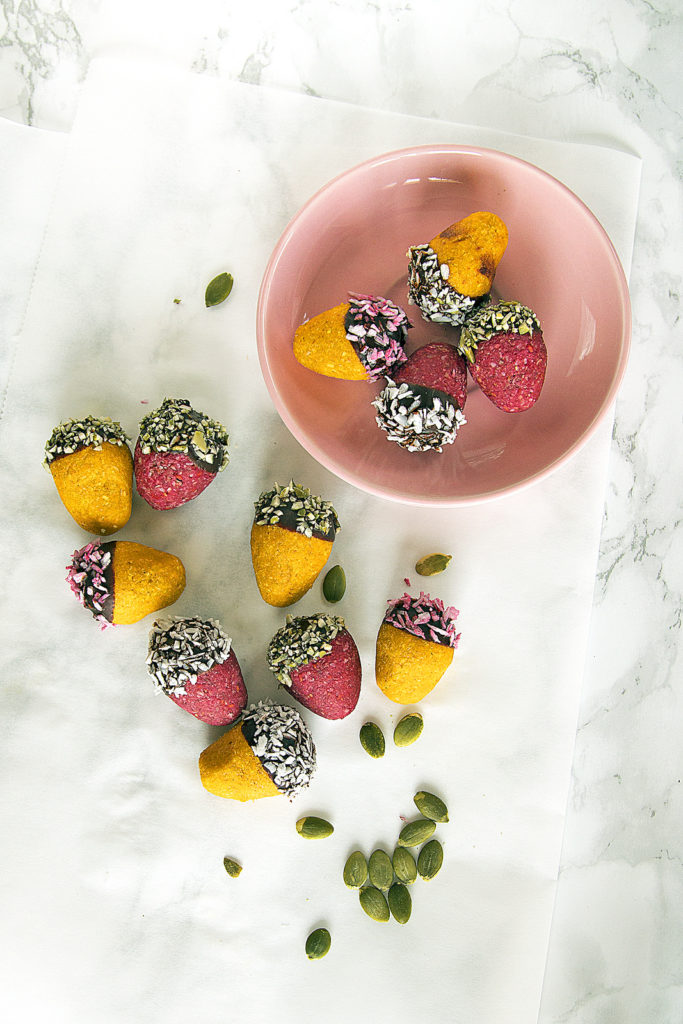 Eriks family is coming over to visit us, we are going to make a healthy vegetarian easter buffé. Green kale pie, chevré grated sweet potato, our healthy easter dessert brownies are just a few dishes we will cook. Holiday is always one of those periods of the year when it could be harder to eat healthy and environmentally friendly. But if you plan ahead and you could always bring your own or eat the healthy food that's on offer (usually something is ok to eat). Offer to bring these healthy easter treats or the easter brownies, who knows? Maybe your family will love them!

Sugarfree & Healthy Easter Treats with Mango & Raspberry
Ingredients
1

cup

Oats

1/2

Coconut flakes

1/4

Almond flour

1-2

tablespoons

Honey/Agave sweetener

1

teaspoon

Vanilla powder

1/2

Raspberries

1/2

Mango

50

grams

Dark Chocolate
Instructions
Start off by mixing the oats, coconut flakes, almond flour, sweetener and vanilla powder in a mixer or with a hand blender in a bowl.

Separate the dough and put in to bowls. If you use a hand blender put the dough in one of the bowls and mix with the raspberries do the same with the mango in the other bowl. If you use a mixer put half of the dough and mix with the raspberries. Remove the raspberry dough, clean the mixer and continue with the mango dough.

When your done, melt the chocolate in a water bath. Roll the doughs into nice little treats and dip in the melted chocolate.