Energy Balls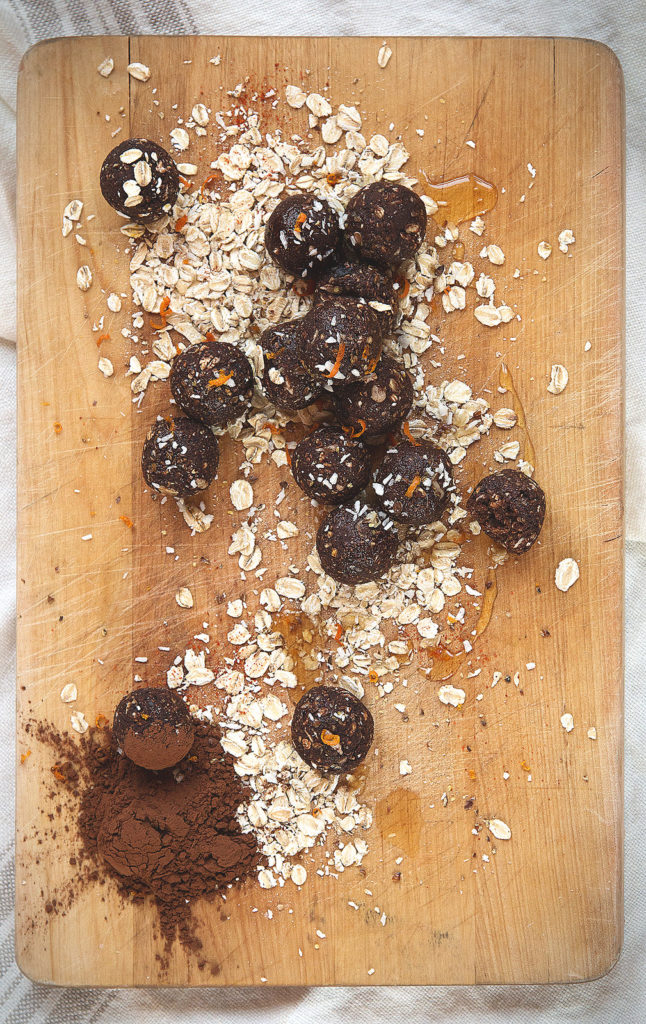 Our absolute favorite snack! We make them at least three times a week and we call them super balls another common word is energy balls. The super-factor consist in the high amount of superfruits with a very high level of antioxidants, minerals, vitamins, fibers and other good stuff that makes our bodies maintain their health in the long term.
Superfruits can be almost everything that is just super healthy and the very best with this snack is that you can add almost whatever you like and it will be a delicious little super bite.
We are of course going to serve you a perfect well balanced recipe of this snacks but we are also posting a list of great superfoods that you can replace or add to the recipe. We are sorry for the over use of the word "super" in this post but we can not stress enough how super super these energy balls are. So, are you ready to go super!?
Energy Balls
Ingredients
The base
Dates

6

Oats

2/3 cup

Cacao

2 tbsp

Coffee

1 tbsp
Our favorite flavour enhancers
Vanilla powder

1/5 teaspoon

Coconut flakes

2 tbsp

Sunflower seeds

roasted, 1 tbsp

Soyamilk

1-2 tbsp
Instructions
1. The only thing you need to think about is having a bowl and good handblender ready and to pick out the seeds from the dates.

2. Than just mix the ingredients until you have a smooth and sticky dough.

3. Taste and when you like it start to roll small balls and move them around in some topping, for instance in coconut flakes.
Superfoods that will taste delicious in the energy balls 
Also see this post about rawfood ingredients that you can add to the recipe:
10 Rawfood ingredients
Raisins
Dried cranberries
Apricots
Figs
Almonds
Hazelnuts
Coconut oil
Pumpkin seeds
Sesame seeds
Flaxseed
Cacao nibs
Raw cacao
Banana
All kinds of vegetable milks such as almond or coconut
All kinds of vegetable butter such as almond, peanutbutter
All kinds of dried fruit
All kinds of nuts