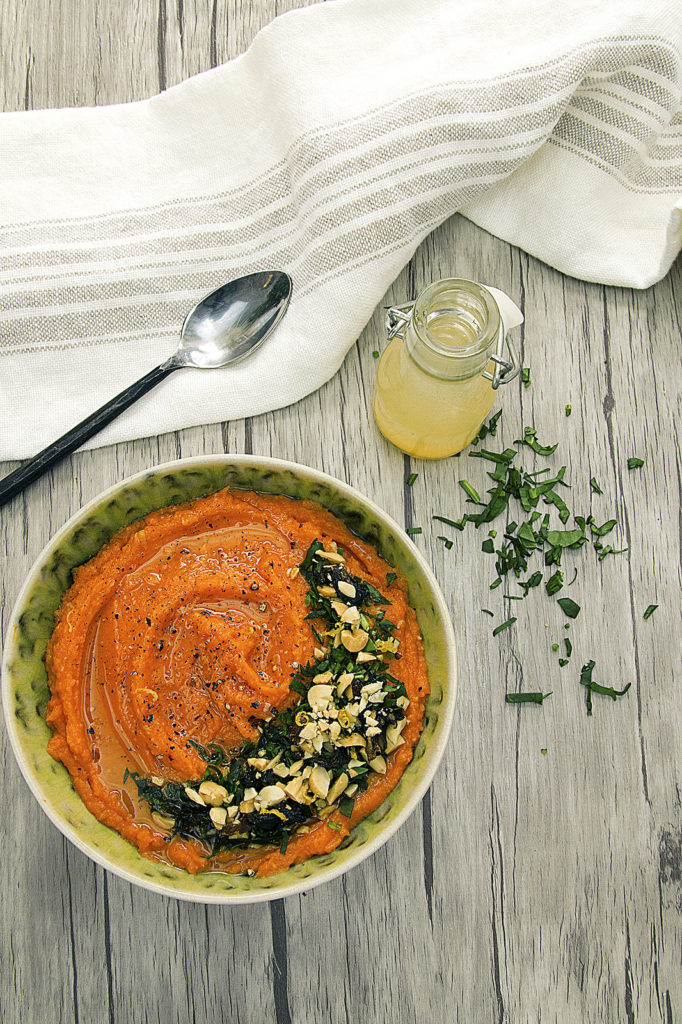 Do you like hummus? The sticky, soft cream made of chickpeas with a taste of the sixth flavour, umami? It is simple to make and super healthy, the protein amount is high and the cream will fit with a lof of dishes.
We like to remake classical recipes and give them a fresh touch. This hummus made of sweet potatoes is a chickpea free hummus. Funny ha? We wanted mostly the lovely soft texture and though the orange lump would do success. And so it did!
The sweet potato hummus has an amazing flavour, sweet and a little sour, salty and will make all kind of dishes a lift. Want to try, here is the recipe!
We love Sweet potatoes see our other Sweet Potato recipes here.
Sweet Potato Hummus
Ingredients
2

big Sweet Potatoes

1

teaspoon

Olive oil

0,5

teaspoon

Lemon juice

Lemon cest from half a lemon

Salt

Black pepper

Toppings

Fresh Spinach

Peanuts

Dates
Instructions
Heat the oven til 482 F or 250 C.

Put the sweet potatoes in a baking dish and put it in the oven for 45 minutes.

Take out the sweet potatoes and let it cool for a moment before you cut it in two and start eroding the soft content into a bowl.

Add all the other ingredients and give it a good mix. Finished, as simple as that!