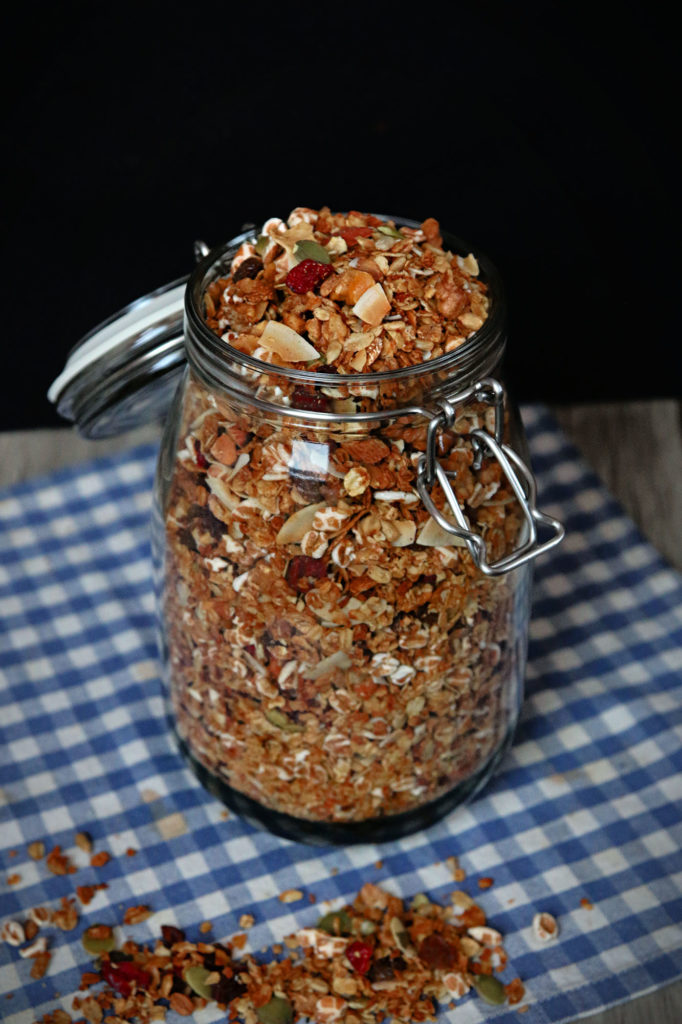 Homemade granola can be an healthy, delicious and comforting treat. Avoid the store bought granola that contain high amount of sugar and make your own healthier version. The base of our healthy granola recipe is whole oats. They are high in fiber, protein and are full of vitamins. For sweetener we use organic juice concentrate, try to find a concentrate that is full of only natural sweeteners.
This is one of those recipes that is easy to do. The measurements and ingredient list is not so important, ad what you have in your kitchen. It is a great way to get rid of those small packages of nuts and seeds.
One other advantage of making this healthy granola recipe is that your home will smell wonderful.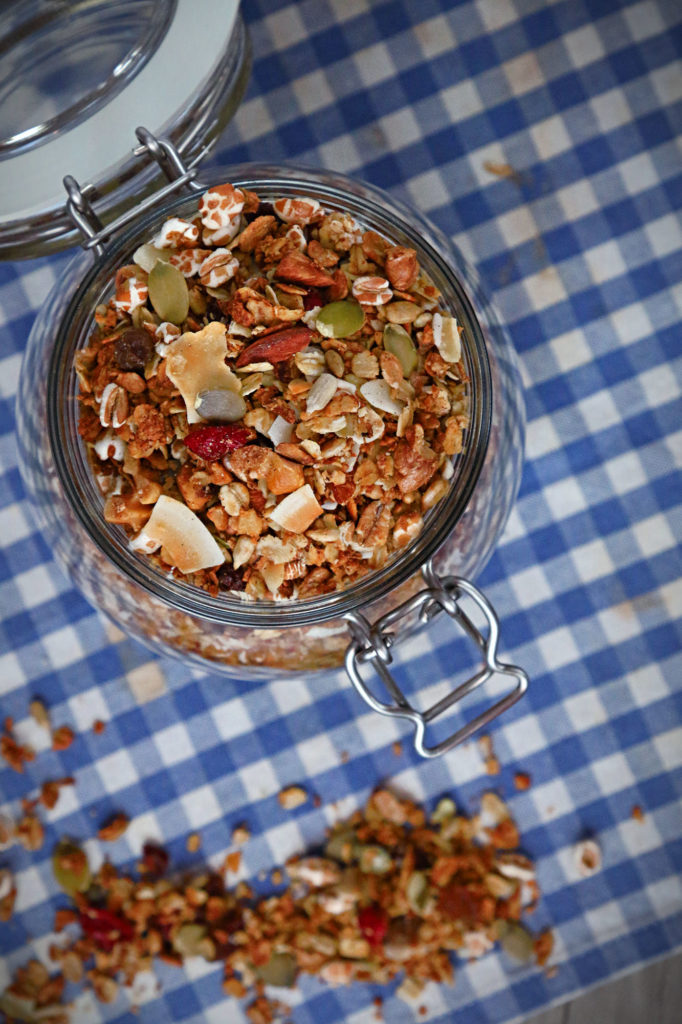 Healthy granola recipe
Ingredients
Pre Baking

4

cups

of Oatmeal

1

cup

Spelt Flakes

1/2

cup

Sunflower seeds

1/2

cup

Pumpkin Seeds

1/2

cup

Coconut Flakes

1/2

cup

Chopped Almonds

1/2

cup

Chopped Walnuts

1/2

cup

of optional vegetable flavorless oil. Coconut oil will work but not olive oil.

If you are using concentrated juice use 1/4 cup if your using regular juice take 1/2 cup. We normally use Apple or Pear juice koncentrat. 

1

teaspoon

Salt

1

teaspoon

Vanilla powder

1

teaspoon

of Ground cinnamon

After baking

1/2

cup

Raisins

1/2

cup

Cranberries

1/2

cup

Coconut Chips
Instructions
Put the oven on 150ºC/302.00ºF. Prepare a baking tray with a piece of baking sheet.

Begin by chopping the almonds and walnuts. Mix the chopped nuts with the oatmeal, spelt flakes, sunflower seeds, pumpkin seeds in a large bowl.

Add the oil, juice, salt, vanilla and the cinnamon. Give it a good stir and spread it out evenly on the baking tray, if the granola forms a thick layer remove half of the mixture so you get a good crust.

Bake for 20 minutes in the middle of the oven.

When it's done ad the remaining ingredients and store it in a big glass jar.
Notes
As always use organic and sustainable produced ingredients. The measurements and ingredients is flexible, experiment!