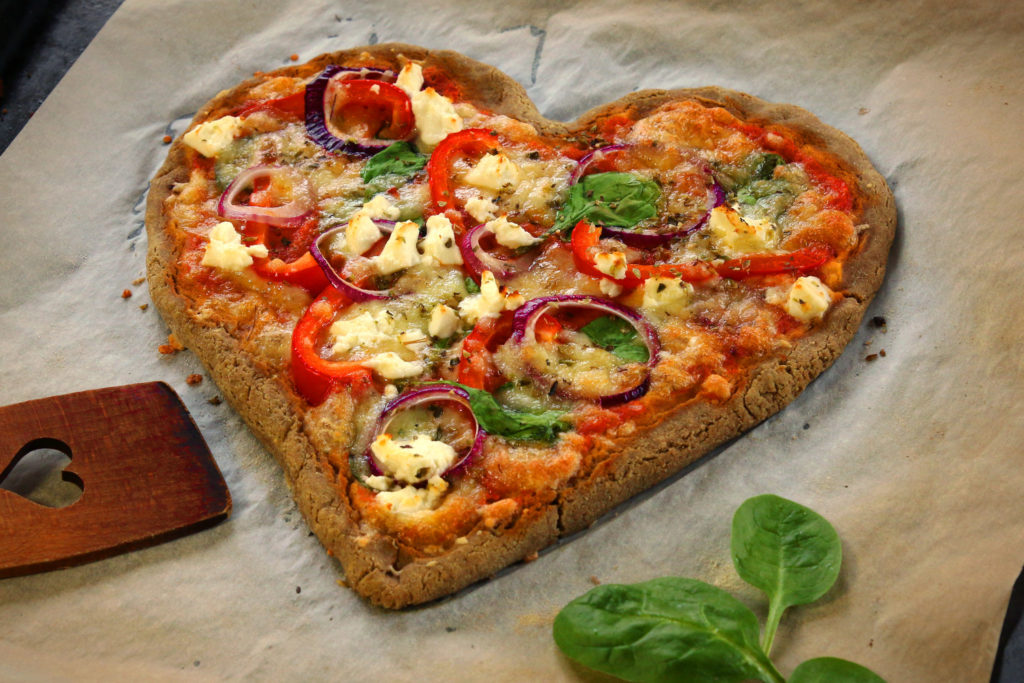 Surprise your loved one with a heart shaped gluten free pizza for Valentines day! It's gluten free with no meat so it's okay for vegetarians, you can make it vegan if you remove the cheese. Buckwheat and almond flour gives the pizza dough a nice and smooth texture. It's also quick to make as it's made with baking powder instead of yeast. Gluten Free Pizza is easy to do without meat, thanks to the high protein amount in the dough you still get a very high amount of protein and fiber from the buckwheat. Give the world some love today!
Did you give the world some love today babe? Doris(Link to youtube clip with the song). 
*Remember to use non virgin olive oil in the dough or some other natural cooking oil.
Valentines Day Gluten Free Pizza
Ingredients
Tomato Sauce

1

teaspoon

Cooking oil

1/2

Finely chopped Yellow Onion

2

Grated garlic gloves

1

tablespoon

of Tomato Purée

300

gram

Crushed Tomatoes

1/2

teaspoon

Thyme

1

teaspoon

of Salt

1/2

teaspoon

of Sugar

Pizza Dough

1

cup

Buckwheat flour

1/2

cup

Almond flour

1

teaspoon

Baking powder

1

teaspoon

Salt

1

cup

Water

1

tablespoon

Olive oil

Non-Virgin

Topping

50

grams

of Spinach

1/2

Red Pepper

1/2

Red onion

100

gram

Feta Cheese

100

gram

Mozzarella

1/2

teaspoon

of Oregano
Instructions
First start with making the tomato sauce, take forth a small saucepan. Add the cooking oil and turn on medium heat. Finely chop the onion and add to the pan. Graté the garlic gloves down directly into the pan. Let the yellow onion get transparent but not burned. Add the tomato purée and give it a good stir. Next add the crushed tomatoes and thyme. Lower the heat and let it zimmer until you are ready to add it to the pizza.

Turn on the oven on 225 Degrees Celsius/440 Degrees Farenheit.

Start with the pizza dough. First mix all the dry ingredients in a large bowl. Add the water and oil and mix it together. Put some flour on the kitchen sink and work the dough for a few minutes. Next get a baking tray and add a baking sheet. Put the pizza dough on the tray and start shaping your heart, use a knife to get smooth edges.

Chop the peppers and onion into large pieces. Add the tomato sauce on the pizza topp with fresh spinach, red peppers, red onion, feta cheese, mozzarella and finish it of with some oregano.

Put the pizza in the oven and bake for 10-15 minutes.