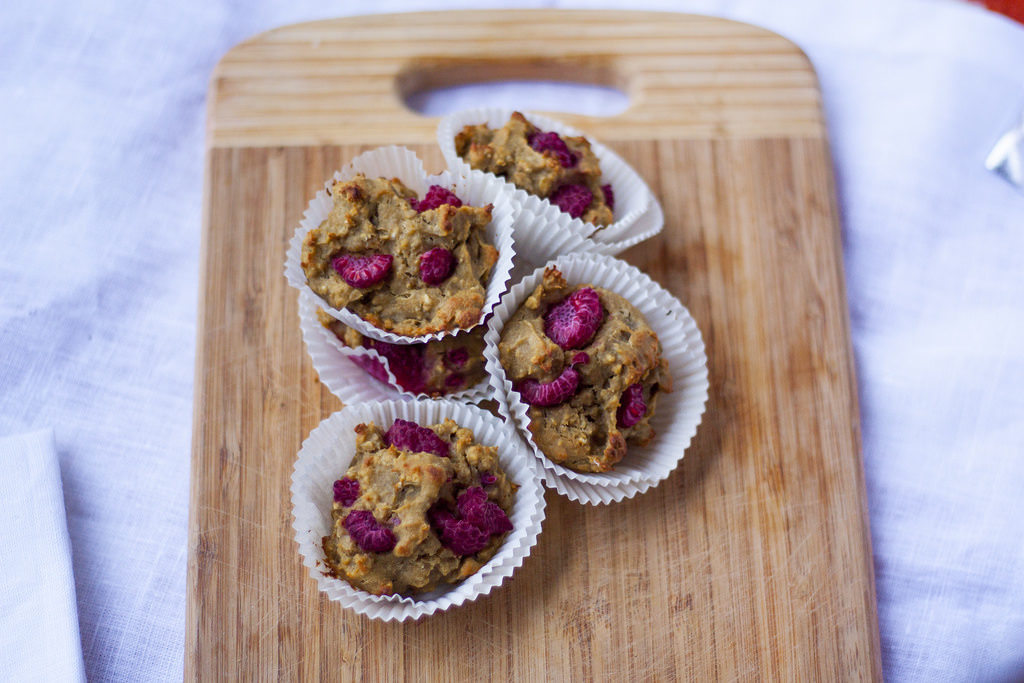 Have you ever felt badly for summer in the middle of the winter? Yesterday we were really cold and we looked at our 2014 summer pictures. Then we thought of something that could bring out the cozy warm summer feeling again. Perhaps something with sweet Raspberries?
Raspberries + Our Healthy Muffin recipe = Success, tastes like a Midsummer Dream! 
This recipe will work wonders with other kind of berries (blueberries, strawberries), fruits (apples, pears and bananas) and of course chocolate chips (dare to dry a version with a real high cacao percentage at least 80 % to get that bitterness).
Raspberry – Sugarfree muffins
Ingredients
Muffin dough
3/4

cup/ 2 dl soy flour

1/5

cup

/ 1/2 dl Almond flour

1

teaspoon

Psylliumseeds

1/5

cup

5 dl Plantbased milk (almond, hazelnut, oat, soy)

0,5

teaspoon

Salt

1

Banana

1

tablespoon

Honey

1

Egg

1

teaspoon

Baking Powder

10

Raspberries to add into the dough

6-8

Muffin/Cupcake moulds

Decoration:

10

Raspberries to decorate
Instructions
Put the oven on 200 celsius/ 375 farenheit

Mix all of the dry ingredients together in a large bowl.

Mix the egg, the honey and banana in a blender until they are completely mixed.

Mix the banana egg cream into the large bowl, add the milk and stir in the raspberries gently.

Add the dough into 6-8 muffin mould and sprinkle with the remaining raspberries.

Bake on an oven safe tray for 7-10 minutes.