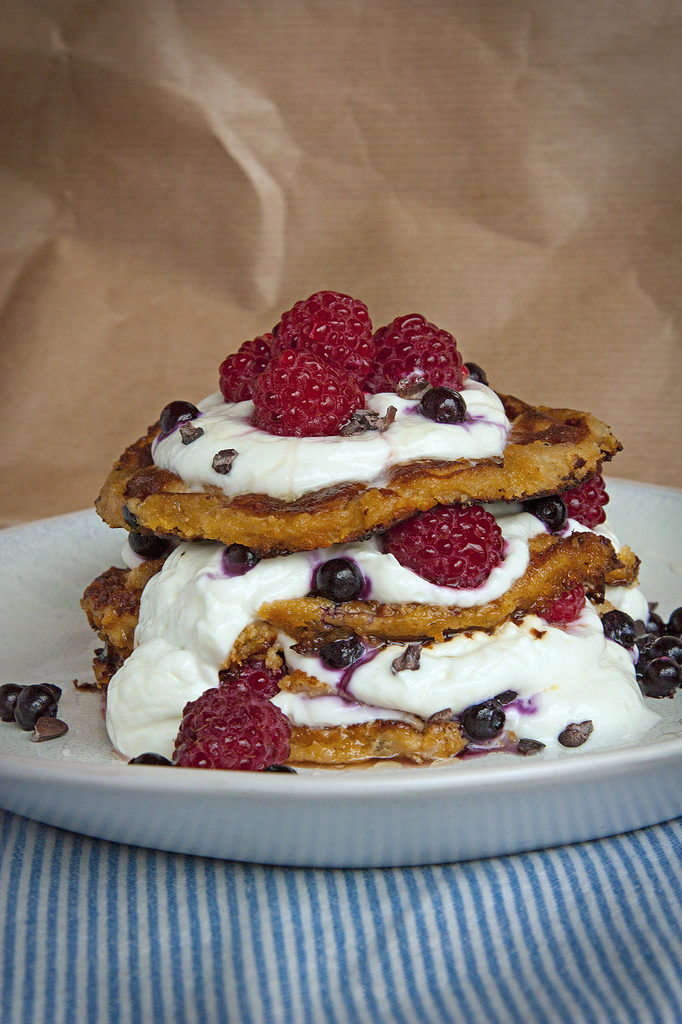 We love our pancakes. We love them even more if they are good for us and good for the planet. We also love Sweet potato, and we heard somewhere that you can use it to make vegan pancakes so we just had to try!
O yes! It worked like a charm. Combined with coconut milk, almond flour and some baking powder makes this the best vegan pancake so far that we have tried!
It's best to prepare the sweet potato the day before so that if you intend to do it in the morning you can quickly turn it into a good pancake.
We love Sweet potatoes see our other Sweet Potato recipes here.
Vegan Pancakes made of Sweet Potato served with Berries.
Ingredients
100

g

or one large sweet potato

1/2

can

190 g coconut milk

1/4

teaspoon

vanilla powder

1/2

cup

almond flour

1

tablespoon

honey

1

teaspoon

baking powder

1/2

teaspoon

salt

1/2

tablespoon

psyllium seed husk
Instructions
Put the oven on 405 F/ 200 C.

Roast the sweet potato on a tray with a baking sheet for 1 hour or until tender.

Let it cool, peel and mash it with a fork, store in the fridge to cool off.

Start the pancake mixture with adding the sweet potato, coconut milk, honey and vanilla in a blender and mix until completely smooth.

In an new bowl combine the almond flour, baking powder, salt and psyllium seed husk and whisk.

Add the mixture to the blender and mix. Be careful not to overblend it.

Let the batter rest for 15-20 minutes in the fridge.

After the batter has rested, heat up a nonstick pan on medium heat. Use a round form to make the panncakes perfectly round, be sure you put oil on it, I used coconut oil. Place the form in the pan and add oil inside.

Cook each pancake for 2-3 minutes or until they get a nice surface.

Serve with oatgurt/soygurt, berries and honey.