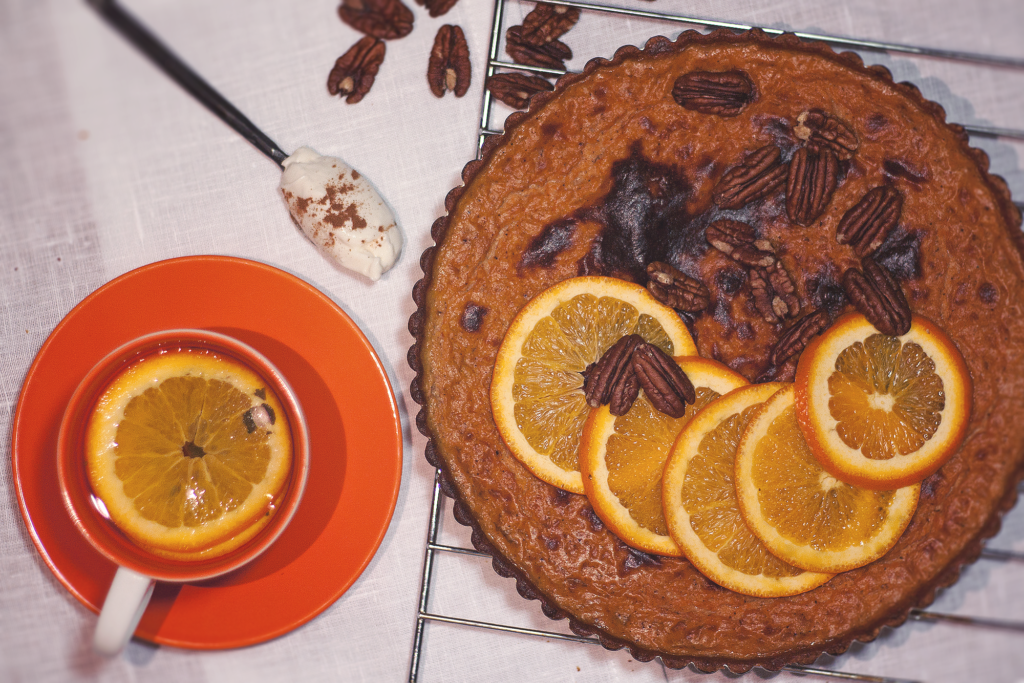 The leaves has start falling and the winds are iceing. This is the time of year that we crave tasty pastries the most. Apple pies is an international favorite, cinnamon buns are our Swedish little darlings and pumpkin pie is the Americans light in the dark fall. Since pumpkin is also very popular here in France and you can find locally cultivated ones we decided that we needed to make a healthy version of the sugar dripping sweet. It tasted so good that I need to share it with you.
So turn the oven on and let's bake!
Craving sweet pies for fall? Try this healthy pumpkin pie
Ingredients
Pie crust
½

cup

of almond flour

¼

cup

of coconut flour

1

teaspoon

salt

1

tablespoon

oil

any kind you find that is organic

½

cup

of milk

almond/oat/or usual cow
Filling
1

tablespoon

honey

2

tablespoons

coconut sugar

1

teaspoon

of salt

for the boiling water

2

teaspoons

of pumpkinpie flavours

cinnamon, ground ginger, ground cloves

2

large eggs

500

grams

of pumpkin

1,5

– 2 cups of milk

choose your favorit
For serving
Cream cheese light

Pure Vanilla
Instructions
Heat the oven to 220ºC/425.00ºF.

Start with the crust and mix all the dry ingredients together. Then add the oil and the milk and stir it til it makes a good dough. Then use a baking roller and make a big round of the dough. Lift it over to the pie plate with help of plastic film. See this tutorial to learn how. Now let the pie crust rest while the filling is made.

Fill a pot with a lot of water at let it boil. Peel and chop the pumpkin and add it to the boiling water together with 1 teaspoon of salt and let it boil for 8-10 minutes or until the pumpkin is soft.

Take the pumpkin out of the boiling water and put in a big bowl than use the hand blender to mix it to a smooth mass. Add the honey, coconut sugar, the pumpkin spices and mix again. Now add the eggs and after mixing it all together you are going to add the milk in small amounts and stop when the filling has a good texture and not is to floating. It should still be creamy.

Pour the filling into the pie crust and put it in the oven for 25-30 minutes or until the filling has set.

Now your ready for a good break with your pumpkin pie, serve with whipped cream cheese with some pure vanilla in it.
Nutrition info in 1 portion:
Kcal: 214
Carbohydrates: 10,7
Protein: 6,1
Fat (saturated 38%): 15,6
Diet: Vegetarian (if you choose vegetable milk), paleo
Free from: Refined sugar, fast carbohydrates, wheat, diary products (optional)
Eco-friendly perspective: Pumpkin is in season, choose organic. All the ingredient should be easy to find organic, and also choose the one the is produced as close to you as possible.