Are you craving for something sweet for the afternoon coffe break? But you still want to be healthy? Then this is a raw food dessert recipe that will soothen your sweet touth.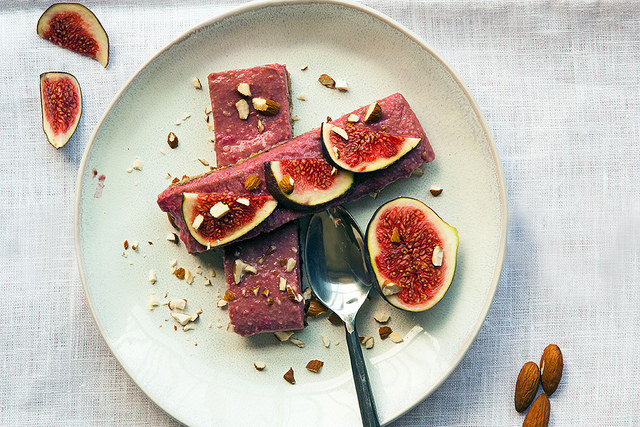 Yummy Raw Food Dessert
Rasperry and Almond Cake – Yummy Raw food dessert
Ingredients
50

gr

Dates

50

gr

Sunflower seeds

50

gr

Oatmeals

Water

2

tbls

Cacao

100

Almond flour

2

tbls

Coconut oil

50

gr

Almond flour

½

Banana

1

dl

Raspberries
Instructions
Start mixing the oatmeals and the sunflower seeds to get a flour. Mix in the dates and add water until you have a nice thick stable texture.

Get a new bowl and mix almond flour with cacao, then ad the coconut oil to get a buttery texture. Take a new bowl and mix the banana with the rapsberries and add almond flour.

Get a small tray/plate that you can put in the freezer, ad a layer of baking sheet. Begin by spreading the first layer and turn it into a square. Add the Second layer gently and finish of with the topping. Put it into the freezer for minimum 30 minutes to get a nice firm cake. Take it out and split it into small pieces.

Enjoy it with a smile because this raw food dessert is both delicious and freaking good for ya!
Notes
Contains additional amounts of: Fibers: 9,5 g, Vitamin K 9.
Diet: Vegetarian, vegan, raw, paleo
Free from: Sugar, wheat, diary products, gluten.
Eco-friendly perspective: Regular oats are one of the grains that need the most pesticides so make sure you choose  organic.
Organic Dates, nuts and seeds can be found in speciality stores. Cacao plantations are what has caused a devastation in the rainforest in Brazil. The cacao plants needs high nutrient soil and after 25-30 years the plants are abandon in search for new nutrient rich soil. This pattern will be avoided if you choose organic and rainforest alliance certified cacao beans in your cacao powder and chocolate treats. Raspberries are in season late summer/early autumn but we suggest that you buy organically grown frozen they taste almost as good as freshly picked. Check out our 10 most used Raw Food Ingredients here.