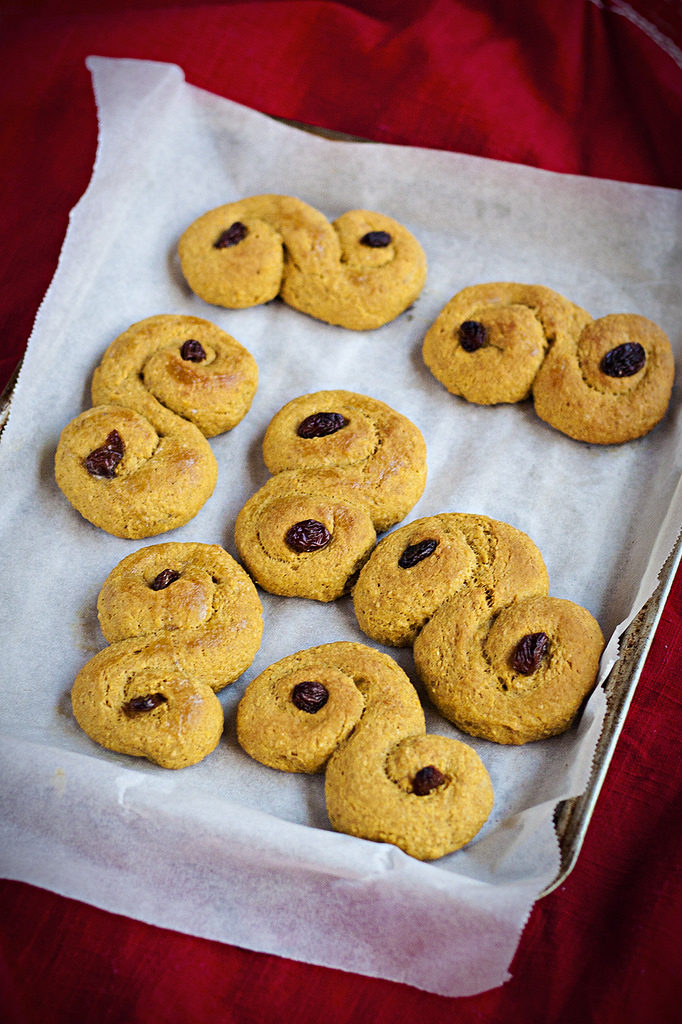 Now it's our last week in Paris, we are going to meet friends, visit our favorite places once more and really enjoy every little bit of Paris before we go back north.
Saffron Buns (Lussebullar)
One thing we definitely will do when we come back to Sweden is to put up our christmas decorations and bake our Saffron Buns and gingerbread cookies. Served best with warm mulled wine (glögg).
Usually Saffron Buns contains refined sugar and wheat flour. Here we have removed the sugar and replaced the wheat flour with spelt flour. And they are totally vegan and vegetarian friendly!
3 min into the clip you see how the Saffron buns are rolled (it's in Swedish but you can still watch the video)  https://www.youtube.com/watch?v=e1SlM9WgXR8.
Saffron Buns – Swedish Tradition the Healthier Version
Ingredients
50

grams

of Cashew butter

smoothly mixed cashews thats been soaked in water overnight

40

grams

of Honey

1/2

a cup Almond milk

take a little bit less than 1/2 cup

1

Bag of Saffran

50

grams

of Yeast

1 dry yeast package

40

grams

2 tablespoons Coconut sugar

2

teaspoons

of Salt

1

tablespoon

Psyllium seed husk

2

teaspoon

Baking powder

100

grams

of Oats

mixed in a blender

30

grams

of Almond flour

40

g

of Corn flour

200

g

Spelt flour

4

tablespoons

of Potato Starch
Instructions
Soak the cashews overnight and mix them until you have a smooth buttery texture.

Mix together almond milk and honey in a small bowl.

Mix all the dry ingredients in a large bowl.

Pour the almond and honey mix into the dry ingredient mix.

Form it into a dough.

Ad the cashew butter and knead the dough.

Let it raise for 45 minutes. Shape into buns (see video).

Brush the buns with some honey water (stir honey into water instead of using egg yolks).

Bake in the oven for 13-15 minutes.