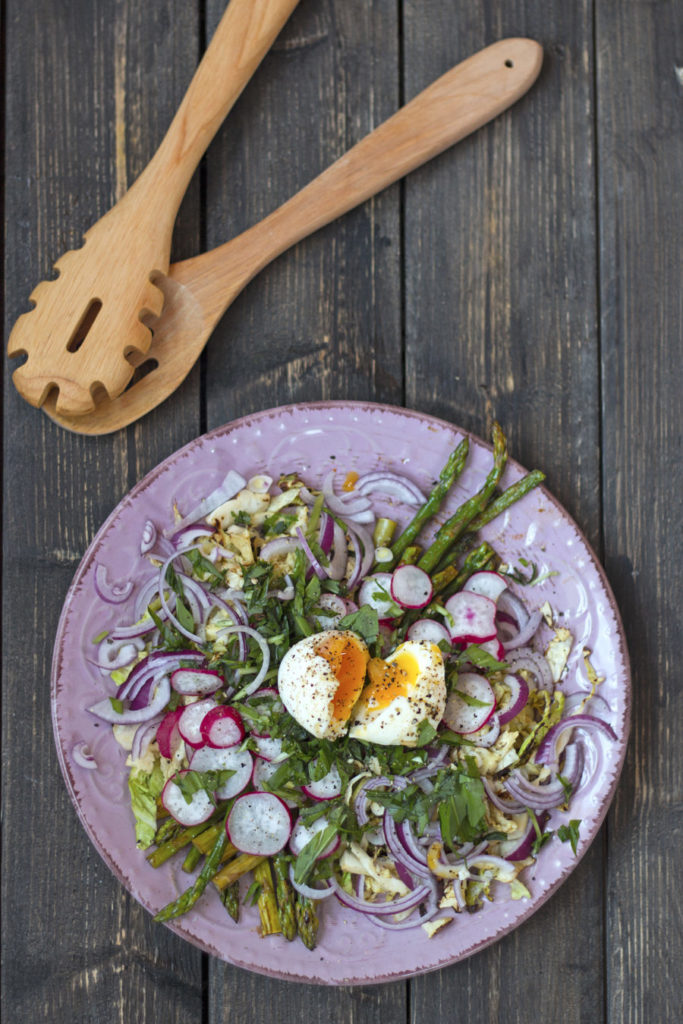 We love to cook food that is in season and we also love asparagus! But the asparagus has a short season here in Europe and especially in Sweden so we take the opportunity to enjoy it now because during the autumn and winter, much of the asparagus in grocery stores are imported halfway across the globe from Chile. We feel that it is unnecessary to eat asparagus as it never tastes as good as it does right now. So here's a simple asparagus salad recipe for a delightful spring salad with radishes, soft-boiled eggs and red onion.
Asparagus Salad recipe with radishes and eggs.
Ingredients
250

grams

of asparagus

1

egg

lemon zest

50

grams

of radishes

1

red onion

1

bunch of parsley finely chopped

Optional: Lettuce as a salad base

about 200 grams.

Dressing

1/4

cup

olive oil

1/4

cup

balsamico

1

tsp

salt
Instructions
Cut of the bottom of the asparagus and blanch it in a pan for about 1 minute (let it simmer for 1 minute). Then add the egg and let it boil for 3-4 minutes. Then fry the asparagus in a little oil in a pan and let it get a little color, finish the frying process of by being adding a little lemon zest into the pan to deglaze it. Remove the asparagus and let it cool. Slice the radish, red onion and shred the lettuce. Mix the dressing and mix it up with the asparagus, radish, onion and salad and garnish with the finely chopped parsley and the soft-boiled egg.