Warm Broccoli Salad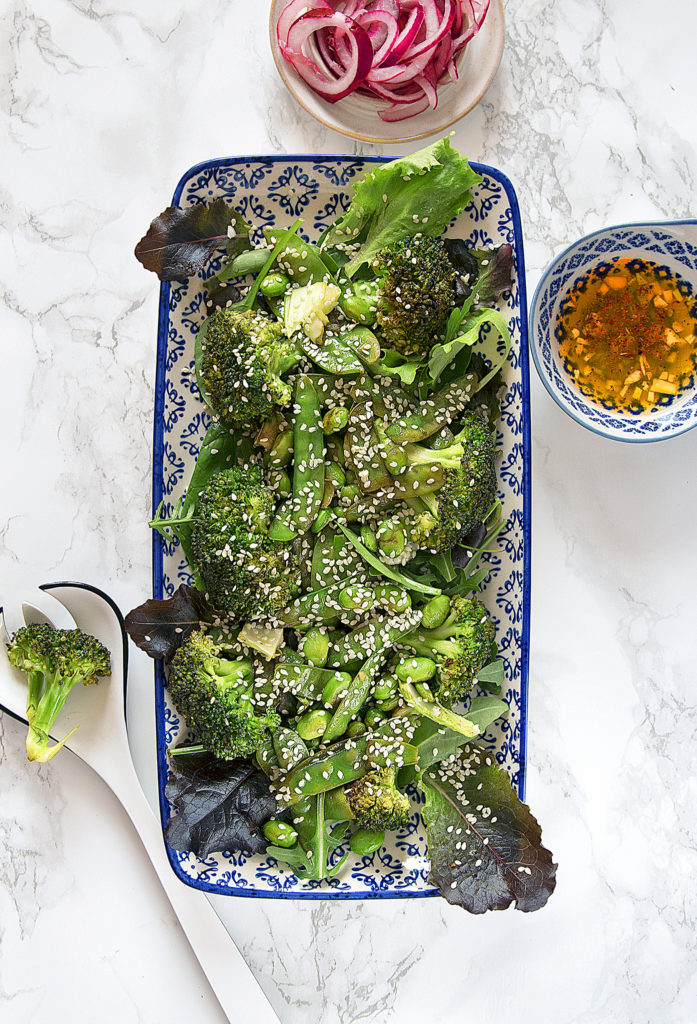 Broccoli is one of the healthiest vegetables fully packed with vitamin c and vitamin k that's good for your sight and your bone structure. But it can be sometimes hard to get it into your daily diet because it needs some cooking and some spices to get tasty. We thought it was hard to eat raw broccoli so we invented this warm broccoli salad, but it's important that you pre cook the broccoli (blanching) otherwise you will get a mushy broccoli. Served with a crunchy and spicy dressing with cayenne, garlic and sesame seeds. The broccolis cousin Cauliflower would also be delicious in this warm salad instead of the broccoli.
Brocoli salad
Ingredients
Salad

1

Broccoli head

1

tablespoon

of Vegetable oil

50

grams

of Snow Peas

50

grams

of Green salad in season

Dressing

2

tablespoon

Vegetable oil

2

tablespoons

Vinager/apple vinager/rice vinegar

2

large Garlic cloves

finely minced or pressed through a garlic press

Large pinch Cayenne pepper

2

teaspoons

Sesame seeds
Instructions
Cook up some water in the water boiler.

Cut the broccoli into evenly sized pieces. Use the stalk and not only the florets.

Let it cook in the warm water for 2-3 minutes (this is called blanching).

Take forth a frying pan, add some vegetable oil and put on high heat. Let it get really warm and then fry the snow peas and the broccoli until they have gotten a nice color.

Assemble the dressing in a small bowl, whisk everything together.

Take a nice big plate and add the salad in bottom, ad the broccoli and snow peas and sprinkle the dressing on top.