Sweet Potato Vegetarian Lasagna Recipe
Lasagna… the Italian specialty, just thinking about a piece makes you drool…
Those childhood memories, of freshly made creamy lasagna served directly from the oven. I (Erik) remember that my dad always used to say that it was even more tasty the next day. Unfortunately, the usual lasagna is not the worlds most healthy or environmentally friendly dish, even if we sometimes wish it was. That's why we experimented with our own vegetarian lasagna.
"Our love for sweet potato and eggplant resulted in this dish"
We love sweet potato and we love eggplant. So, what if we could combine these two into a creamy lasagna? The combination along with spinach and mozzarella became just heavenly!
Our most popular recipe
This is one of our most popular recipes and since you guys love it so much we did a youtube video showing how we do the lasagna – Check it out below!
Try out our sweet potato vegetarian lasagna with eggplant today! Let us know if you liked it by commenting or repining it on pinterest! 😀
Sweet Potato Vegetarian Lasagna
Ingredients
1

Eggplant

1

tablespoon

of Cooking oil

3

medium size Sweet potatoes

3

tablespoons

of Plant milk

we used oat milk

3

cloves

of Garlic

1

pinch

of Chilipowder

1

pinch

of Salt

100

grams

of Spinach

100

grams

of Mozzarella

Additional topping Black pepper

Grated parmesan
Instructions
Begin with the eggplant, cut it into evenly shaped pieces. Fry in a frying pan on medium heat with the cooking oil. Fry until you have a nice brown color. Let it cool.

Wash the sweet potato and pick them with a fork. Bake in the microwave for 5-7 minutes on maximum heat. Scrape out the mushy sweet potato and add it into a bowl and mix with a hand blender. If you don't have a hand blender a mixer will do. Add the plant milk, salt, chili and the garlic cloves and mix until you have a nice purée.

Turn the oven on 225ºC/437.00ºF, bring forth a ramekin and start assembling the lasagna. Start with the eggplants, then add the sweet potato mixture, then the spinach and finish off with the cheese. Bake for 10 minutes or until the cheese has melted nicely.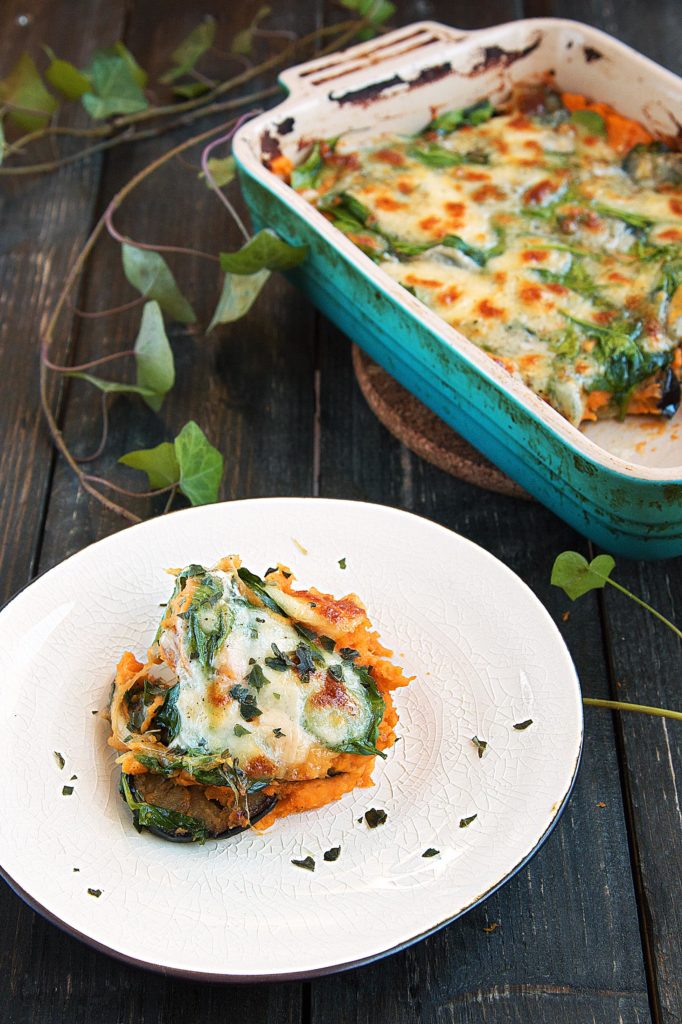 We love Sweet potatoes see our other Sweet Potato recipes here.