Can you also sometimes get a massive crave for some pizza?
But it's way to easy to make just a ordinary classic with tomato sauce and ham. We want to inspire you to dare to experiment a little with your homemade pizzas. Dare you to throw on some green, why not use the leftover avocado and beetroot to make a colorful pizza? If you are not quite there yet, we have these starter recipes on vegetarian pizza with green kale and avocado with a base of cream fraiche (pizza blanco)! Try to make these vegetarian pizzas and you're bound to want to eat it over and over again!
Here is our recipe on our favorite vegetarian pizza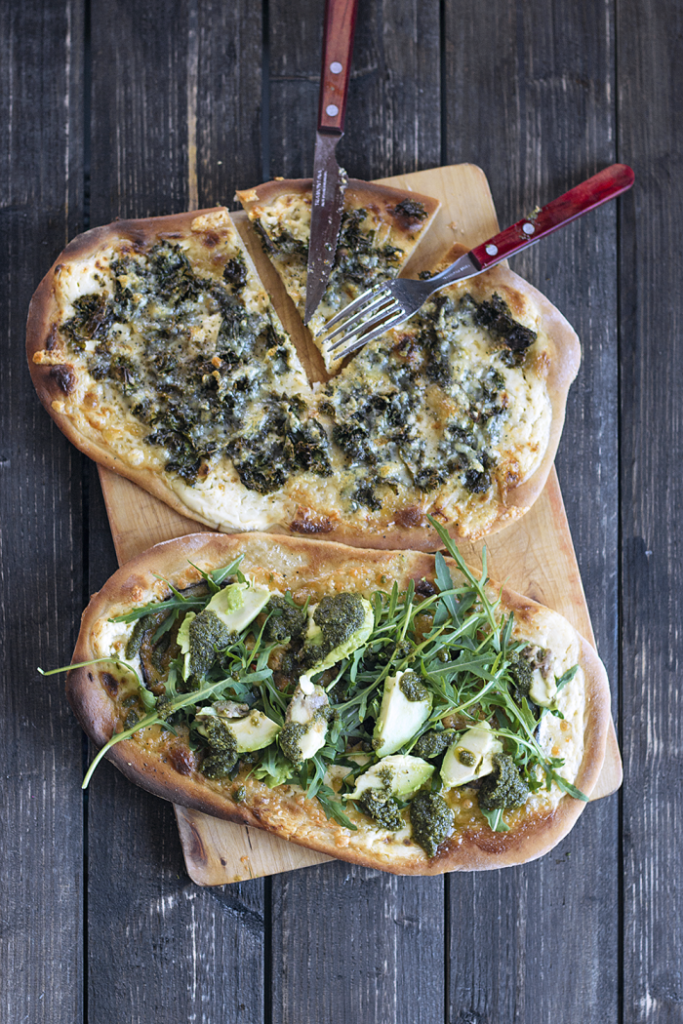 Vegetarian Pizza in two ways with avokado & green kale
Ingredients
Dough:
25

g

of fresh yeast

1

tsp

sea salt

1

tbl olive oil

1/2

cup

of lukewarm water

1 1/2

cup

of spelt flour
Kale pizza:
1/2

cup

cream fraiche

1

small onion

100

g

greenkale

25

gr

almond flour / chopped almonds

50

g

grated mozzarella
Arugula & Avocados vegetarian pizza:
1/2

cup

cream fraiche

100

g

mozarella

1

avocado

30

gr

rocket
Optional: garnish with a bit of green pesto
Instructions
Mix all ingredients except the flour to the dough in a bowl, then add the flour a little at a time and work together to form an elastic dough. Let it rest, preferably for an hour. Meanwhile, mince and fry the onion in some oil in a saucepan. Let it become golden brown.

Add then the shredded green kale and almond flour and fry until the kale is browned. Tear the mozzarella. When the dough is finished fermenting, turn on the oven to 482 farenheit and then roll it out into a nice shape and spread the cream fraiche and the kale mixture, and mozzarella cheese on one pizza, add cream fraiche and mozzarella on the other the pizza. Now is the time to bake the vegetarian pizza and drive it into the oven for about 15 minutes. Decorate the cream fraiche and mozzarella pizza with avokado, some rocket salad and green pesto!