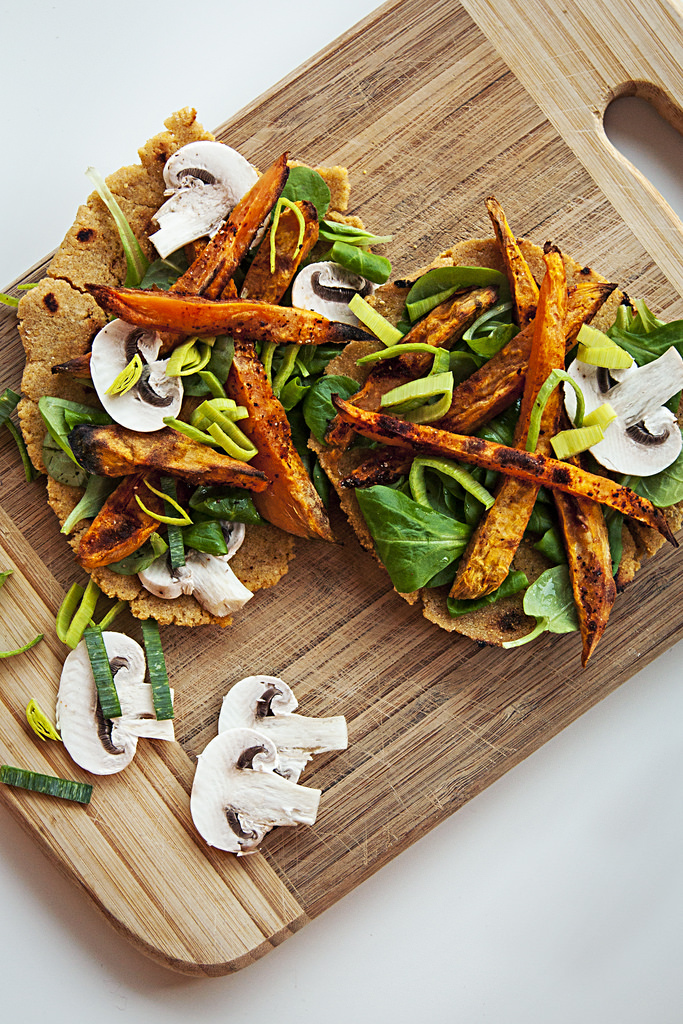 Roasted sweet potato, fresh mushrooms, green mache salad on top of a warm freshly fried corn tortilla. We got the inspiration from the recipe from the wonderful vegetarian blog Naturally Ella but we excluded the quinoa (to see the original recipe click here: http://naturallyella.com/2013/02/15/crispy-quinoa-and-mole-sweet-potato-tacos/)
How good doesn't this look?
This is a vegetarian taco with spicy flavours and a fantastic sweetness from the jams. You can buy your tortilla bread but it will definitely be best if you bake your own, it is so simple and take only a few minutes! Vegetarian taco can be be done in thousands of variations and most of them contain beans but I choose mushrooms instead because of the very high protein content. Did you know that mushrooms contains 4% more protein than beans? Well you do now, so give this recipe a try!
We love Sweet potatoes see our other Sweet Potato recipes here.
Vegetarian taco made of corn flour with sweet potato
Servings:
12
small tortillas
Ingredients
Corn Tortillias 12 small or 6 big
1

cup

Corn flour

1

cup

Whole wheat flour

1

teaspoon

Baking powder

1

teaspoon

Salt

Less than 1 cup water

2

tablespoons

olive oil

or any other vegetable oil
Filling
1

big Sweet Potato

10

Mushrooms

4

cm

Leek

Maché salad

Paprika

Cumin

Cayenne
Instructions
Heat a pan and turn the oven to 230 C/446 F.

Start with chopping the sweet potato into thin stripes. Put it in a pan and add oil, salt, paprika powder, cumin and cayenne and put it in the oven for 30 minutes.

Continue on to the tortillias. Mix the corn flour, whole wheat flour, baking powder and salt together and add water and oil. Mix it until you have a nice dough.

Now split the dough into 12 small bits or 6 big bits and start to roll until you have round tortillias. Fry in a pan without oil for a few minutes on each side (look for bubbles, not just one but two then they are usually ready to be turned).

Take out the sweet potato stripes and start chopping the leek and the mushrooms then your ready to serve your vegetarian taco! A tip would be to add some kind of yummy dressing, recipe will be posted soon.
Notes
Nutrition info in 1 portion:

Kcal:

 454

Carbohydrates:

72,6

Protein:

9,9

Fat

(saturated 1,3 g): 11,3
Diet:

 Vegan and vegetarian
Free from:

Refined sugar, fast carbohydrates, diary products
Eco-friendly perspective:

Choose organic