Do you like the taste of garlic, food that is nutritious and eating with your hands? Then this dish is perfect for you. Our mixed bean pattis in wraps of chickpea pancake with redbeet juice is a really nutritious dinner!
Vegan Bean Patties in the oven
As with all vegetable patties, it's extra delicious when you cook them in the frying pan and give them a go first and then continue baking them in the oven until they are perfectly cooked without getting dry. It is also possible to fry only in the oven, it will also be delicious, but not as crispy.
Vegan Bean Patties
Making vegan bean patties without eggs is no problem at all. The best trick is to replace the egg with 60 g aqua fagua (chickpea brine/water).
Simple Bean patties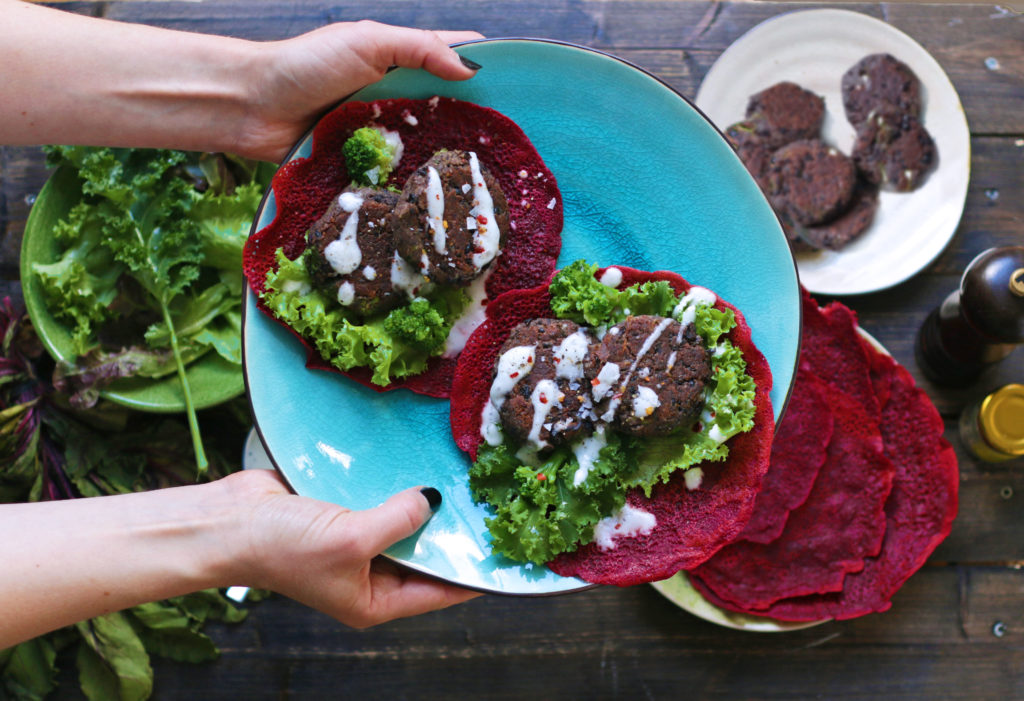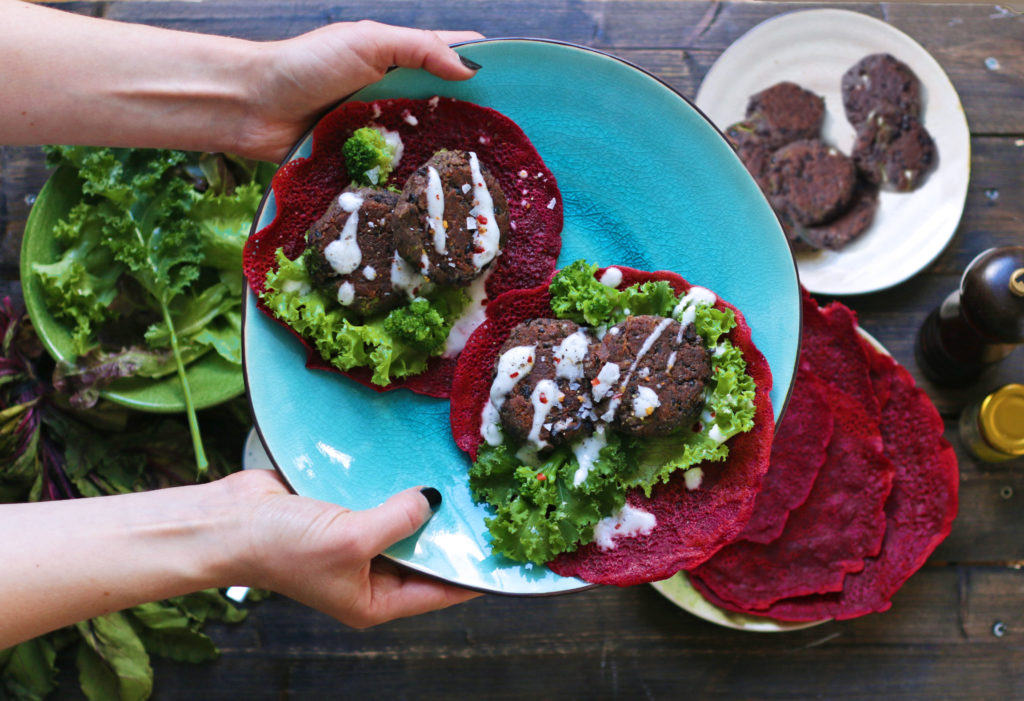 Making a good bean patties is not so difficult in itself. But finding a good recipe that produces fine consistency and both nutrious and tasty is not easy. We have been experimenting for a long time to find our best recipe. And Voila! Here it is:
Vegan Bean Pattis with Redbeet & Chickpea Wrap
Ingredients
Wraps

8 pcs - Chickpea pancakes with red beet juice

1

dl

Redbeet juice

homemade or store bought

1

cup

of water

1

cup

of chickpea flour

1

teaspoon

garlic powder

2

teaspoons

of salt

Beans

12 pcs

2

cans of mixed Beans

or just black beans rinsed

1

yellow Onion

100

g

Broccoli

3/4

cups

of Wheat Sprouts

4

tablespoons

Nutritional Yeast

2

large Garlic cloves

2

tablespoons

of Tahini

1

teaspoon

of Chiliflakes

2

teaspoons

of Salt
Instructions
Wraps
Mix the juice, water and salt in a bowl. Then whisk while adding the chickpea flour, so that the lumps are removed. Finish of by adding the garlic powder.

Heat a pan to medium heat. Add a thin layer of cooking oil. Pour and fry the batter (reach 8 ounces) and twist the frying pan so that the pancake get's spread evenly.

Bean Patties

Start by mixing the beans in a large bowl with a hand blender. Chop the broccoli into smal pieces, grate the onion, squeeze the garlic cloves and then add all the other ingredients ito the bean mixture. Stir together thoroughly with a spoon.

Measure the patties to 60 g and shape them into patties/burgers with oily hands. Heat the frying pan to medium heat and add some cooking oil. Cook for about 5 minutes on each side.

Serve the patties in a redbeet wrap with some fresh lettuce and vegan mayo.