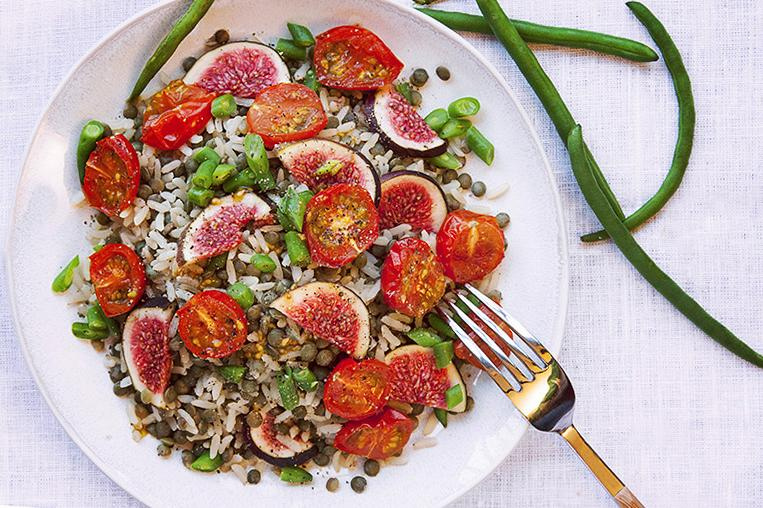 Are you looking for something super easy and fast for dinner? Which also is super tasty and good for the planet? Thought so. We created this tangy lentil salad with lots of fibers, protein, tasty greens and a high lever of the essential mineral iron, which many of us lack.
"Yum! Love how the tastes just melts into each other in the first bite"
Lentils is what we call a complete protein and it means that it is actually a better choice in terms of protein than for example meat. But it is also a better choice than meat in a lot of other reasons, not a least for the environment. Lentils can be grown in most regions in the world and if don't like growing it yourself you can buy it wherever in the world you are.
Enjoy this lentil salad with top notes of lemon and fresh green beans to recover and calm down after an intense day.
Lentil salad with brown rice, tomatos, vitamin C rich
Ingredients
1

cup

Green Lentils

1

cup

Brown rice

10

Cherry Tomatos

1

Fig

100

g

Harricovert/Green beans

1

Lemon

Salt

Pepper

Broth
Instructions
Heat the oven to 200ºC/392.00ºF.

Boil some water in your waterboiler and than pour it in two small pots with the broth. Put lentils in one of them and the brown rice in the other. Than let it boil at a low heat for round 10 minutes but be sure to keep an eye on it from time to time, you don' want it to be over cooked.

While it is boiling you cut the tomatos in half, place them on a plat and put it in the oven for 10-15 minutes.

Slice the harricoverts and the fig.

When the rice, lentils and tomatos are done start with mixing rice and lentils together and pour it over on a beautiful plate. Then sprinkle the sliced harricoverts, figs and the tomato halfs.

Finish with some salt, pepper and pressing a lemon over the salad. And just for the art of it, if you have basil or persil at home, decorate and you have a happy healthy salad that is good both for your body, soul and the planet.
Nutrition info in 1 portion:
Kcal: 394
Carbohydrates: 67
Protein: 16
Fat (saturated 21%): 3,7
Contains additional amounts of: C-Vitamin, 35 mg (46% of RDA). Iron, 4 mg (26% of RDA).
Diet: Vegetarian, vegan, paleo
Free from: Sugar, fast carbohydrates, wheat, meat, fish, diary products
Eco-friendly perspective: Bio lentils can be grown everywhere but be sure you choose a bio one.
You can buy organic brown rice from europe or USA.
Tomatos and figs are still in season here in Paris but in colder areas you can choose for example carrots instead.
Harricoverts can with advantaged be conserved or freezed to be used during the year.
Fresh bio lemons in season but organic lemon juice is also a good choise.
Choose ecological sea salt from your country.
Broth? We suggest you to make your own broth, it is accually really fun and extremely easy.