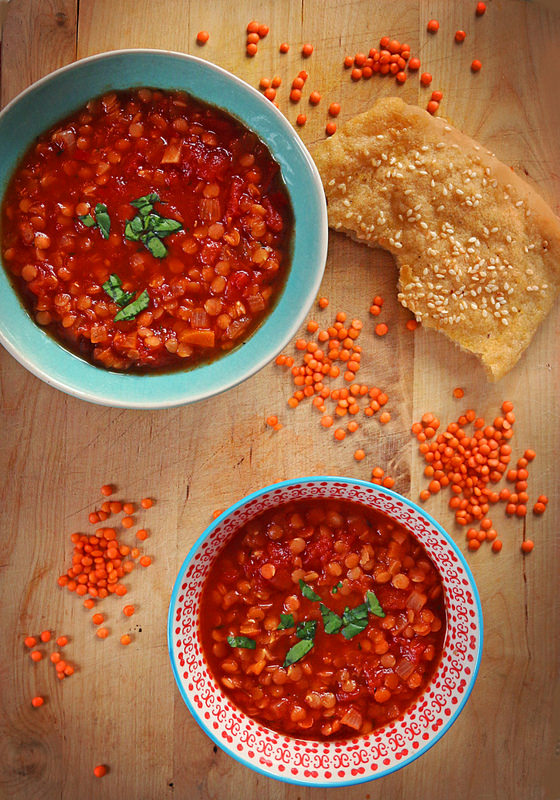 Here in Sweden it's cold and windy. We don't step outside if we are not forced to. During days like these you have a excuse to stay inside. This red lentil soup is the hero for cold days. Lentils contain a lot of protein and vitamine c. The heat from the chili and the garlic gives you that warm feeling inside. It's easy to cook lentils, but you have to cook them in a special way: 6-10 minutes on the lowest heat. Don't salt them until they are completely cooked. After 6 minutes taste the lentils. If they are almost complete remove the saucepan from the heat and let the lentils simmer for a few minutes. It's super easy and it works to get perfectly cooked lentils.
The bread on the pictures we made from the same dough that we used for our vegetarian pasties. Recipe here:
Vegetarian pasties Gluten free dough
Lentil Soup
Ingredients
2

Cloves

of Garlic finely chopped

1

Onion finely chopped

1/2

Chili Peppers finely chopped

1/2

Carrot finely chopped

1

tablespoon

of cooking oil

2

tablespoons

of tomato purée

1

Can of Tomatoes

1

Cube of Vegetable broth

1

Litre/4

2 Cups of Water

1

cup

of lentils/ 2

4 dl

1/2

teaspoon

of Ground Cumin

Salt

Pepper
Instructions
First finely chop the garlic, onion, pepper and carrot into small cubes.

In a saucepan ad the cooking oil and on medium heat sizzle the onion until it's transparent.

Ad the garlic, pepper and carrot and continue to sizzle for a few minutes.

Ad the tomato purée and give it a good stir.

Ad the can of tomatoes and let it simmer for a few minutes, put in the broth and ad water.

Ad the lentils let it cook for 6-10 minutes, after 6 minutes taste the lentils and remove the saucepan if they are almost done and let them finish on the after heat in the saucepan.

Ad the cumin.

Season with salt and pepper.