Experimented a bit in the kitchen today and the result was not bad at all. The result: A luxury raw food cake we got to munch on! Cashew nuts, blueberries, almonds and vanilla makes this a heavenly treat!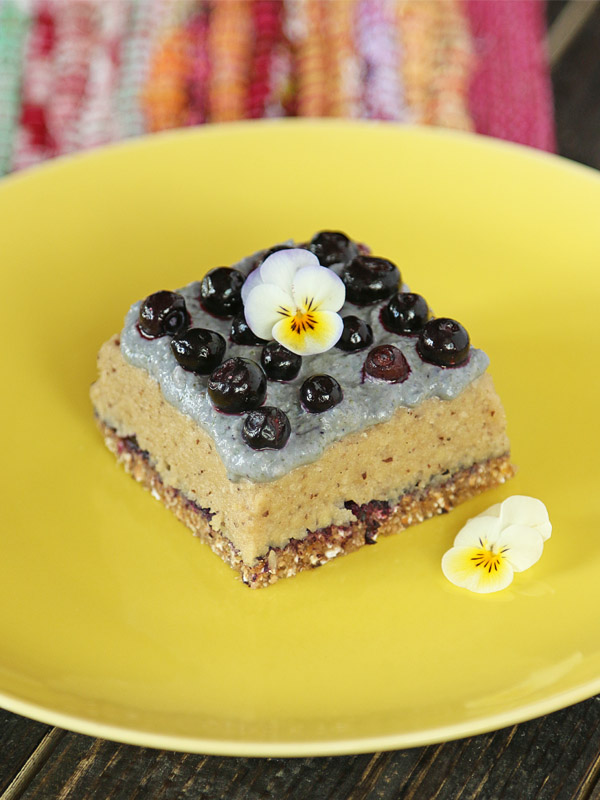 To use soaked cashew nuts might sound a little strange but it creates a wonderfully creamy and juicy cake. This cake is 100% vegan and raw. Try making this raw food recipe today and let's us know what you think. The violets grows on our balcony, we didn't plant any this year they survived from last year!
Raw food recipe – Raw Food Cake made of Cashews, almonds and bluberries
Ingredients
Bottom

0,5

cup

Rye Flakes / Oatmeal

1/4

cup

almond flour

3

dates

pitted

1

pinch

of cardamom

1

tablespoon

water

7

Blueberries

Middle layer

1

cup

cashews

1/4

cup

almond flour

3

Dates

pitted

1

tsp

vanilla powder

1/4

cup

coconut flakes

1

tsp

coconut oil

1

tbsp

Water

or until the texture feels good

Topping

1/6

of the middle layer

1

tbsp

blueberries

1-2

tbsp

water / Soy Milk

Blueberries for topping
Instructions
Add the cashew nuts that you have soaked for at least 2 hours

Mix all ingredients except the blueberries for the bottom layer and spread it out into a small shape, square or round, your choice. Mash the berries and spread the them on top of the bottom layer.

Mix all the ingredients to the middle layer: (Rinse the cashew nuts first). Save 1/6 of the middle layer mixture and spread the remaining mixture onto the cake.

Mix the remaining 1/6 of the middle layer with the blueberries and water or soy milk until you get a smooth and soft consistency. Then spread it over the cake and top with blueberries and violets if you want to!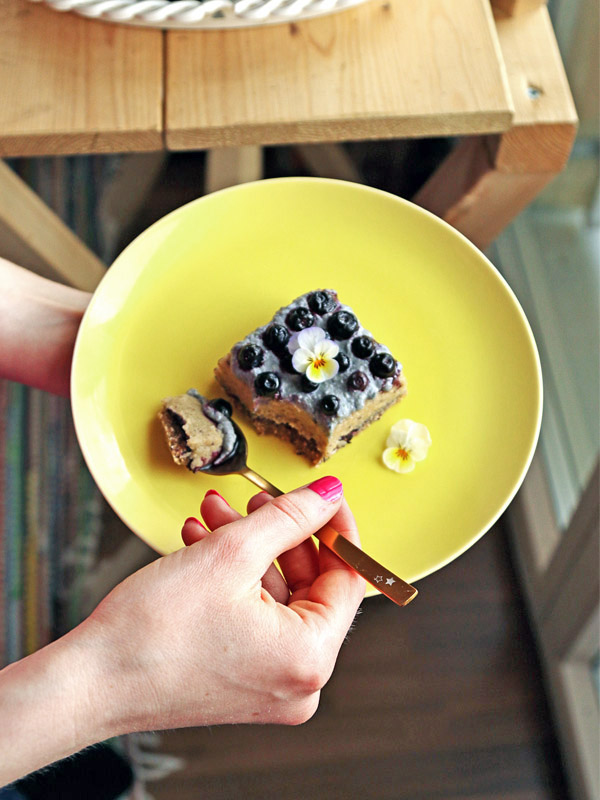 See more raw food recipe here: 
https://vegetariskmatrecept.se/en/2015/05/16/raw-chocolate-cake/