We love picnics, we live about 200 meters from a lake so when the weather permits we pack a blanket and a picnic basket. Picnic food must be simple and easy to take with you. We usually throw together some form of wraps, but we have become tired of  bought tortillas so before this picnic, we tested something new. Wraps with fresh spinach leaves stuffed with baba ganoush, halloumisticks, peppers and tomatoes was a perfect light summer lunch.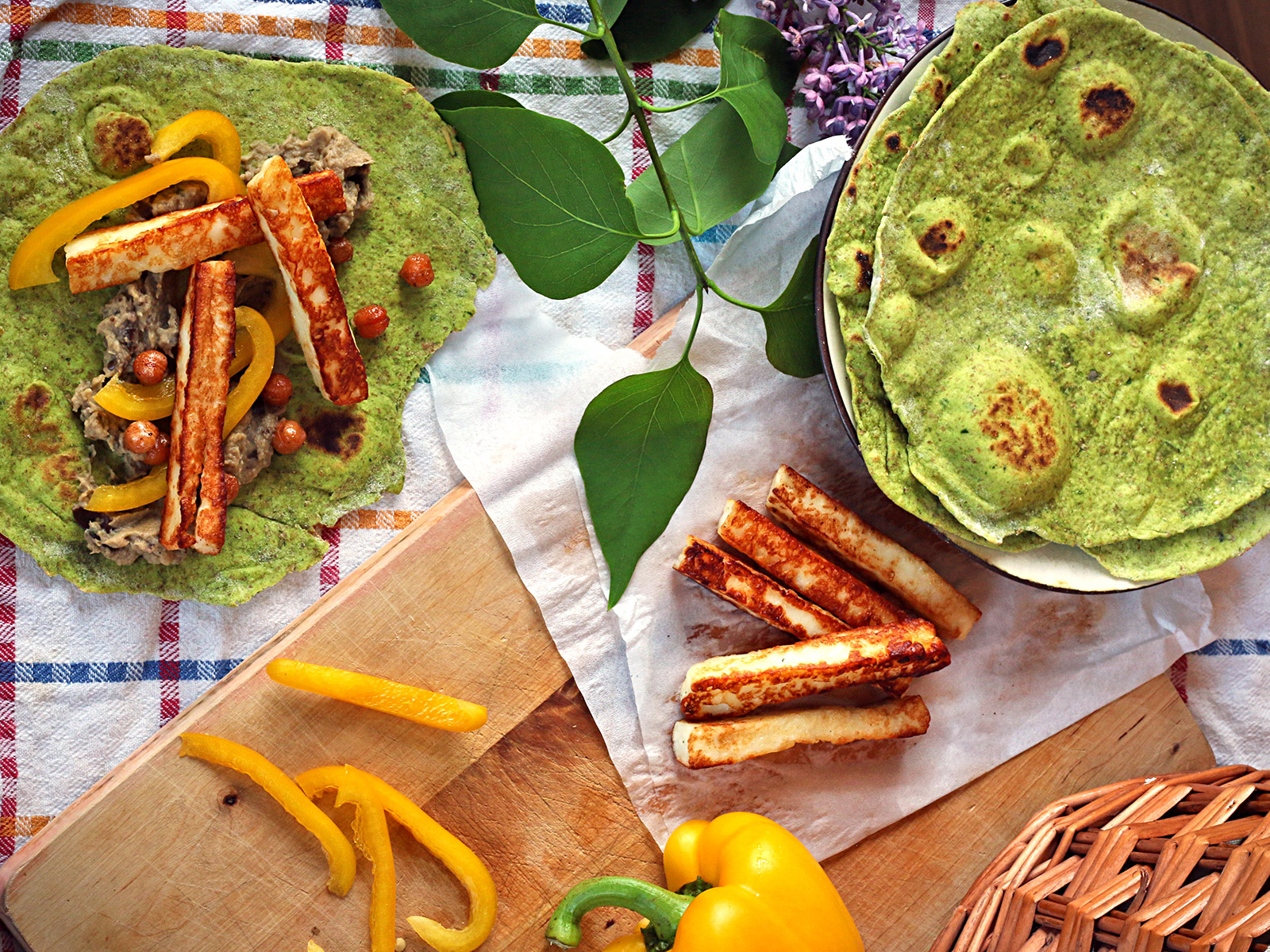 Ingredients:
Spinach Wraps
2 cups of spelt flour
3/4 teaspoon baking soda
1/2 teaspoon salt
2 tablespoons cooking oil
100 g spinach leaves
1/2 cup soya milk
Recipe:
In a large bowl, mix together the flour, baking powder and salt until well mixed. Pour in the cooking oil and stir until a crumbly dough is formed. Set aside.
Mix spinach and the soy milk in a blender, mix until the mixture is substantially mixed. Pour spinach mixture into the dough and mix together. If the mixture is too wet, add a little more flour. Knead the dough with your hands for about 5 minutes, until it becomes smooth. Shape the dough into a ball, wrap in plastic wrap, and place in the refrigerator for 30 minutes. Here we use the time to make our filling, this time it was halloumisticks, fresh peppers and baba ganoush!
Lightly flour a bench and rolling pin. Divide the dough into 8 pieces, roll into small balls. Roll out into round fine wraps. Heat a frying pan over medium heat. Cook the wraps one at a time for about 30 seconds on each side or until wrap has solidified somewhat and received golden brown spots. Let cool, then wrap in plastic wrap and store in the refrigerator until ready to be packed into the picnic basket!
Receptet på svenska hittar du här: