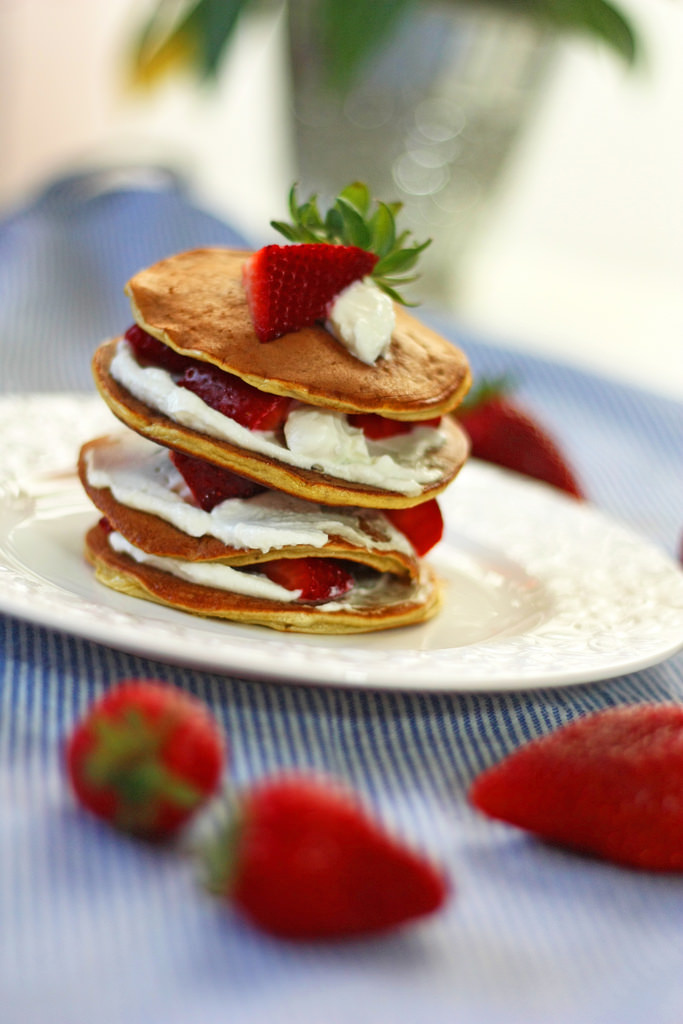 Vegan pancakes recipe
Does the word pancake make you see stars?
There is something special about pancakes, it reminds me of my  childhoods days when I would be served pancakes for dinner with sweet jam (apple, blueberry and lingonberries) and wipped cream. Lovely! And it also makes me think of luxorious hotels with amazing breakfast bufféts. But pancakes always gives me a little stomach ache and a punding head. Awful! So I decided to create a vegan pancake, then I can have both –  luxourios pancakes and a healthy stomach. Enjoyed best with fresh fruit and cinnamon and vanilla powder sprinkled on top.
Do you want more healthy pancakes recipes, check out our roundup post with our best recipes here. 
Vegan pancake made of soya, buckwheat served with oatgurt
Servings:
6
small pancakes
Ingredients
1/2

cup

soya flour

1/2

cup

buckwheat flour

1

tablespoon

organic honey

1

teaspoon

baking powder

An pinch of salt

1

cup

almondmilk

2

tablespoons

coconut oil for frying

any other vegetable oil will work
Instructions
Heat a pan til middle heat and grab a big bowl.

Mix the flours, baking powder and salt together.

Then add the milk and honey and mix till it has a nice texture.

Pour some of the mixture in the pan in an optional size and keep on do that til you have all your vegan pancakes finished.

Serve with oatgurt (yoghurt made of oats) or usual yoghurt if you don't need it to be vegan. This picture is a few month old and that is why I used fresh strawberries but any fruit will work perfectly well, or just use frozen strawberries instead.
Notes
Nutrition info in 1 portion: Kcal: 84 Carbohydrates: 11 Protein: 3,7 Fat (saturated 0,5g): 2,4
Diet: Vegan, vegetarian, sugarfree, paleo
Free from: Refined sugar, fast carbohydrates, wheat, gluten, diary products (optional)
Eco-friendly perspective: Choose organic and add a fruit in season