Here is our best vegetarian pie recipe. There are a lot of vegetarian pie recipes out there but we think this quice deserves a feast. The crispy  pie crust, the sweet pepper and the mighty broccoli topped with feta cheese is combined in this savory vegetable pie. Are you looking for more vegetarian recipes? You can find more here: Vegetarian recipes, Vegetarian lasagna, Grated sweet potato.
Do you want to eat more vegetarian food? A vegetarian pie is a good way to start
A vegetarian pie is a good place to start if you want to eat more vegetarian food and reduce you meat intake. You can make this pie in advance and reheat it. It's perfect as a main dish or on a buffet.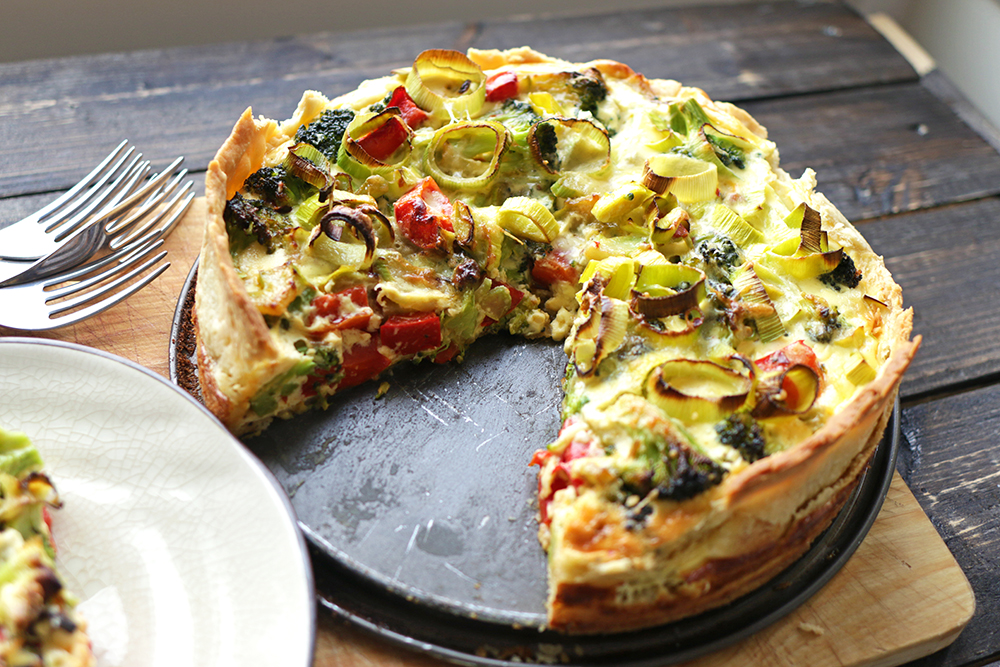 Pie Crust
250 g Spelt flour
125 g Butter, room temperature
5 g Salt
50 g Oatmilk (or other plant milk)
1 Egg yolk
Filling
1 Broccoli with steam
1 Red pepper
10 cm/3 inch Leek
150 g Feta cheese
"Baked egg mixture"
3 Eggs
2,5 dl Creme Fráiche
1/2 cup of Water
1 tsp Salt
Svartpeppar (optional amount)
Chiliflakes (optional amount)
How to make the pie crust
You make the pie crust by easily forming a pile of flour on the baking table. Make a pit in the middle where you add the butter and salt. Pinch together so everything is mixed well.
Add milk and egg yolks and knead lightly (not too much!) Until it turns into a dough.
Roll out in between two sheets of plastic film, and put it into the pie form. Leave in the freezer for 30 minutes.
Bake for 15 min at 200 degrees/ 375 Farenheit. Put a baking sheet ontop of the pie and add dry lentils or dry beans.
Filling!
Divide the broccoli into small bouquets, cut the peppers and leeks and cook in canola oil to give them a nice color, when done put them in the pie dish.
Mix all ingredients for the egg mixture in a bowl and pour above the filling.
Sprinkle over feta cheese and bake at 200 degrees/375 farenheait for about 20 minutes.